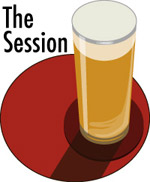 Alan has written. The theme for the second round of The Session has been chosen:
"What do you really want in April? Frankly, I want an ale and one with some strength to get you warmed after a cold day turning half frozen soil. Something that can stand the keeping through the winter. Something with some flavour to match the warming of the earth. Something with an ecclesiastical aspect. I have just the thing in mind…
DUBBELS!"
Hey, I know somebody who wrote about a book about this "style" (in quotation marks because I don't want New Belgium's Peter Brouckaert knocking me upside the head).
I'm having second thoughts about not picking a New Mexico beer for our March tasting, so I'll be leaning that way for April. Might have to try a few American and Belgian versions just to make sure.
Mark the date: We post on April 6. You may begin drinking and taking notes any time.