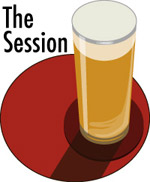 Host Thomas Vincent of Geistbear Brewing Blog has announced the theme for The Sessions #16: Beer Festivals.
He writes: "As Summer approaches we are in full swing of beer festival season, so it seemed the perfect topic for the June Session. Do you have a favorite beer festival you like to attend or a particular memory of inspirational moment at a festival? Or perhaps talk about what you would like to see out of festivals or perhaps their future of them. All is fair game, I look forward to seeing where people take this topic."
It's easy to participate. He has the details.