@hopcandy @StanHieronymus Pilsner! The new IPA. Awesome. #allbeerisone

— Lew Bryson (@lewbryson) August 5, 2016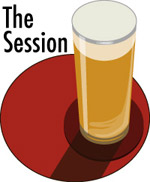 We Changed The World … For This?
[Via All About Beer]
An American Story.
IPAs as National Tradition.
[Both via Beervana]
Whoa! What's all of this have to do with The Session #114, given that Alistair Reece has asked us to write about pilsners? But what Jeff Alworth has to say about the use of American hops and about how American brewers, and now brewers around the world who are mimicking them, is relevant.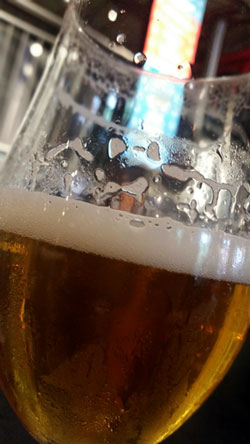 There is such a thing as an Americanized pilsner out there that has nothing to do with Miller Lite. Who You Callin' Wussie from Arrogant Brewing* is an example. It is a well made flavorful beer, brimming with lots of aromas and flavors, some of which you won't find in an old world pilsner. Basically, it's kind of loud and it bangs into the furniture. That's OK, as long as it is adding diversity, not eliminating choice. These are the sorts of things you should be thinking about when you read Lew Bryson's column in All About Beer.
*Yes, this is the same brewery as Stone, although I find the explanation exhausting.
I'm not sure any beer can get inside your bones like certain music — let's say just about any song from Son Volt's Trace — but one like Stammtisch from Urban Chestnut Brewing just up the road from us, or Live Oak Pilz, or Marble Pils, has a better chance than any IPA I can think of. Or a pilsner like Wussie, which ranked seventh in a blind tasting of pilsners conducted by Paste magazine. Stammtisch was first, and Pilz and Pils apparently were not tasted.
Paste praises Urban Chestnut for brewing "superlative German beer styles." I understand this, but maybe because I've been in St. Louis almost as long as Urban Chestnut (and Daria has been here longer) I figure I'm drinking St. Louis beer, not German beer. Part of the attraction of Stammtisch is that it has become a familiar flavor, just as Trace is familiar. Oh, and that drinking a liter isn't a challenge. It's more like humming along when Jay Farrar sings, "Ste. Genevieve can hold back the water, but saints don't bother with a tear stained eye."
*****
The beer in the photo is Urban Chestnut's Forest Park Pilsner, which is brewed with six-row barley malt, corn, and Cluster hops. I wrote about in the August/September issue of Craft Beer & Brewing.