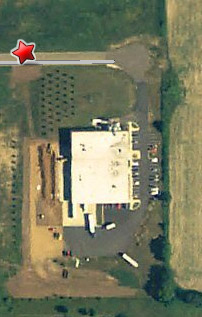 Today is the 100th day of our adventure, and we've posted a bunch of numbers since we figure this pretty much concludes Part I. Part II begins Monday when we fly to Germany.
You won't find much beer — should I have counted ounces consumed, or at least number of different brands? — but you will notice we spent one night in a brewery parking lot.
The unnamed brewery was Bell's in Michigan. John Mallett offered and we couldn't resist. Would you pass on the chance to call friends and say, "Guess where I'm calling from." OK, maybe it would have been cooler to be inside the brewery (with everybody else gone.)
This aerial map from MapQwest is a tad out of date — it seems as if they expand at Bell's about every third week.