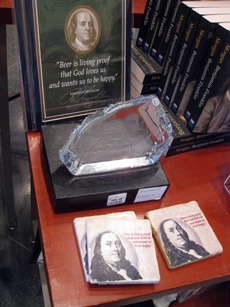 Earlier this summer Martyn Cornell wrote that the Wikipedia entry on India Pale Ale "so completely, uselessly wrong as to be actively dangerous: the mistakes in it are going to be repeated by other writers too lazy to do their own research, and they are likely to take years to stamp out." A bit of a discussion about Wikipedia followed with a bit of a sidebar about how dang frustrating it is to see myths get repeated as fact.
We were in the Canadian Rockies at the time, and later it seemed too late to chime that small breweries are also a culprit when it comes to the IPA story. A shorter version of the Wikipedia entry gets shown thousands of times a day to drinkers ordering from brewpub menus or customers reading the blurb on the neck label. In the long run this propagates the information just as dangerously as Wikipedia.
I thought of that this week when we visited Independence Hall in Philadelphia — yes, "America's Best Beer Drinking City" but this was a home school field trip. The gift shop sells all manner of items quoting Benjamin Franklin, including T-shirts and coasters, proclaiming, "Beer is living proof that God loves us and wants us to be happy."
The problem is that Franklin probably never said this. Mid-Atlantic Brewing News explained this well nearly three years go (no link to the story – sorry), and Bob Skilnik had more details shortly thereafter.
What do you think the chances are the gift store will withdraw these obviously good sellers from its inventory for the sake of historical accuracy?