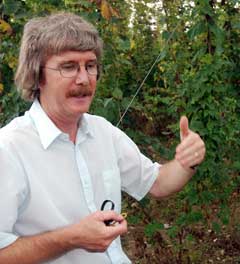 The lead story in the latest issue of All About Beer magazine is titled "Hop Forward: Breeding Tomorrow's Hops Today." The current Brew Your Own magazine has an article on "Aroma Hop Breeding." Earlier this year, Beer Advocate magazine put "The Future of Hops" on its cover.
And yesterday, Tony Magee at Lagunitas tweeted: "Who would u guess 2 be the most important person n US craft brewing? A brewer..? Think again. He's a Hop grower named Jason Perrault! Word."
Perrault is the face of Hop Breeding Company, which owns the patent on popular hop varieties such as Citra, Simcoe and the hop-to-be-named-later-currently-known-as-369.
But change is ongoing outside the United States as well (and Brian Yaeger's story in AABM includes that). Breeders, growers, brokers who sell hops and brewers are having conversations they didn't before. Sometimes even consumers. "As a breeder and a grower it is fun to talk to drinkers about varieties," Perrault said last week, following with a story about sitting in a bar and hearing a customer ask the bartender if he had any beer brewed with Simcoe hops.
So meet Peter Darby, who breeds hops in England. That's him at the top. When the hop breeding program that operated at Wye College for 100 years (1906-2006) closed the National Hop Association of England set up Wye Hops, just outside of Canterbury. There he continues the work started by E.S. Salmon, then carried on by Ray Neve (starting in 1953) and himself (1984).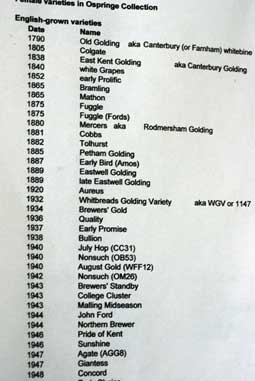 Wye Hops is actually located on China Farm, one of several operated by Tony Redsell, probably England's best known hop grower.
Thus shortly before harvest began in August both hops in the Wye "library" (some listed on the right) and those being trialed were surrounded by hops that soon would be ready for beer.
On one side of the path a field full of Northdown hops — with Northdown Hill in the distance, as a matter of fact — and on the other a test field with hundreds of crosses, maybe even the next "great hop."
"On this side consistency," Darby said, gesturing with his left hand. "On the other diversity."
He was talking about genetic diversity, but he still sounded a lot like a modern day brewer to me.