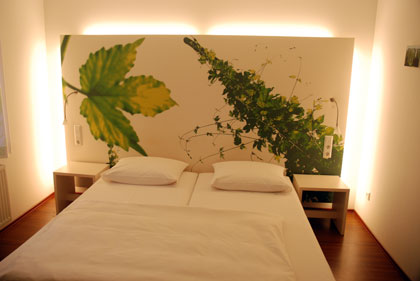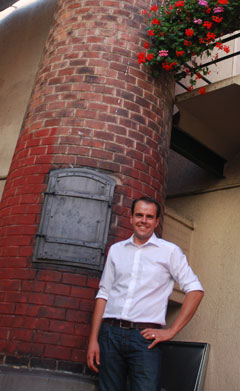 The guest rooms at Brauerei und Gasthof zur Krone in Tettnang in the southwest of Germany are thoroughly modern, with hardwood floors, whitewashed walls and sleek amenities; yet properly spare. The building, on the other hand, has been around since before the last Montfort, Count Anton IV, lived here in the 18th century.
The Tauscher family bought the brewery, which sits directly behind the hotel, in 1847 and Fritz Tauscher (right) is a seventh generation brewer. The Kronen-Brauerei is the last of 26 breweries that used to operate in Tettnang. It produces about 6,000 hectoliters (something more than 5,000 barrels) a year, about 60 percent of that sold in bottles labeled "Tettnanger."
Tauscher is one of nine brewers in a group they call "Brauer mit Leib and Seele" (Brewers with body and soul). "All are owners of breweries in the hands of the their families," he explained. "The beers are brewed with our hands."
Tradition obviously matters, but Tauscher talks as much about the importance of quality. He buys his hops directly from two nearby farms, one organic and the other not. He uses only cones, storing the bales in one of four lagering rooms eight to nine meters below the brewery yard. He begins fermentation of his lagers between 8° C and 9° C (other breweries might start higher to speed the process). He lagers his beers for six to eight weeks (Berliner Kindl Pils lagers for two weeks). He uses less efficient (smaller and horizontal) tanks because he can taste the difference.
Tauscher attended the Craft Brewers Conference in San Francisco last spring. He drank plenty of new wave American beers, packed with alcohol and aromatic hops. He's not just being polite when he talks about how much he enjoyed them.
"I can imagine I will brew one or two beers with those (sort of) hops," said Tauscher, who is 31 years old. "But not yet. The German beer drinkers are not ready for the explosion of flavors."
Tauscher adds only Tettnang Tettnanger hops to the beers he sells (he recently brewed a special batch for hop growers that included four additions of Tettnanger and then Saphir at the finish). Tettanger has served perfectly well for special celebration beers, such as for Tettnang's 700th anniversary party and the brewery's 150th anniversary (a "fresh hop" beer in 1997).
When Tauscher does begin using other varieties they will still be from Tettnang. Tettnang farmers also grow Hallertau Mittelfrüh and Tradition, Perle, Saphir and Herkules, and there will be others. One might well be a variation on Tettnanger. The German hop research center at Hüll this year began a project in partnership with the Tettnang Hop Growers Association and Baden-Württemberg Ministry of Rural Development to breed a new variety with Tettnang Tettnanger as the mother. If a new hop results it will still be 10 years before it's ready for brewers to use.
At Brauerei und Gasthof zur Krone that doesn't seem like such a long time. It sits in the center of town, on a square that will be overflowing for a band concert on a Wednesday evening in summer. Although the town may be best known for hops its population is growing because of high tech businesses and tourism. Old world and new world coexist comfortably.
The hotel serves tourists and business travelers equally well. Each room has its own name — thus Bierbrauer, Bärenpltaz and Brau Wasser as well as Hopfen — decorated to that theme.
You can probably guess which one I stayed in.