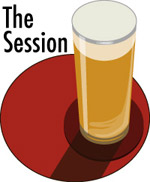 Today the topic for The Session is "IPA: What's the Big Deal?" What follows is based mostly on what's occurring in the United States, although IPA Madness doesn't stop at the U.S. borders, which you'll see by visiting today's posts (look for the links at the bottom of the announcement).
Nearly eighteen years ago, beer author-brewer-consumer Randy Mosher presented a travelogue of a recent trip to the world's largest hops growing regions to listeners at Oldenberg Beer Camp in Kentucky. At one point he tilted his head back as if he were taking a big drink, reaching his hands into the air and grabbing fistfuls of imagined hops, then bringing them back down to his mouth.
"Americans have been starved for hops so long," he said, "that right now we're just shoving them down our throats."
The implication was this would pass. It has not. I've cited this from Hop Culture in the United States before, but 140 years later it is still relevant:
"The brewing industry is not exempt from the influence of fashion. A careful survey of the types and descriptions of beers in vogue at different times will show that fashion has had something to do with our trade," the author wrote. He described changes in beer dating to back before hops became an essential ingredient, and considered what might be next in England. "We will not further refer to the threatened introduction of lager beer into this country, than to say fashion takes strange freaks, and it will be well for brewers to be prepared for all eventualities."
At the beginning of 2008 pale ale was the best selling craft beer style in supermarkets, followed by amber ale, amber lager, wheat beers, and then IPA. Yes, wheat beers, then IPA.
In the four years between the end of 2007 and end of 2011 sales of IPA increased 260 percent and it became the No. 1 craft style. The next year sales increased 40 percent again. This gets harder to measure, because now we have Black IPAs, White IPAs, Belgian IPAs, Session IPAs, and Cider IPAs.
And late Thursday, Harry Schuhmacher passed long the boldest of predictions.
I think IPAs will be to the market what pilsners are now, it make take 30 years. @lagunitasT http://t.co/wmiJ00VhGS

— Harry Schuhmacher (@BeerBizDaily) July 5, 2013
All this reflects still growing interest in aromas and flavors being discovered in hops — or more accurately, created during the brewing process. IPA has become a synomym for hops. When Mosher made his 1995 Hop Tour these are a few of the varieties that weren't yet commercially available: Amarillo, Apollo, Bravo, Calypso, Citra, Galaxy, Mandarina Bavaria, Mosaic, Motueka, Nelson Sauvin, Riwaka, Saphir, and Simcoe. For starters.
More than once last week at the National Homebrewers Conference I was asked what the next hot aroma/flavor would be? My best guess is more variations on this theme. No doubt there will be new varieties released, maybe touting a little more gooseberry, a lot more blueberry, a subtle melon, more lime, even coconut. But, and I hope I am not just being pie-in-the-sky optimistic, brewers also have an opportunity to blend varieties already in hand — often rich in compounds that breeders and farmers worked to keep out of hops as recently as 40 years ago — to create something new.
As Alex Barth, president of hop merchant John I. Haas has pointed out, "This love craft brewers have for hops refocuses attention on the plant." IPA deserves some of the credit. It hardly seems likely it will fall out of fashion soon, but that's no reason to be pissed off about the attention it is getting.
Two examples. The popularity of Union Jack India Pale Ale has helped fund expansion at Firestone Walker, which is why you can get Pivo Hoppy Pils, dry hopped with generous portions of Saphir. Likewise at Marble Brewery in New Mexico. Its IPA drives growth, so beers like Marble Pilsner — brimming with perfumey Old World Hersbrucker hops — end up getting packaged. These are good things.
I seem to have wandered off topic. Hops will do that. Lord know what I'll write about on IPA Day. Maybe coffee-infused wood-aged extreme saison IPAs.