Did I mention the Edelstoff from Augustiner was from the wood, and a lot cheaper than beer at Oktoberfest in Munich?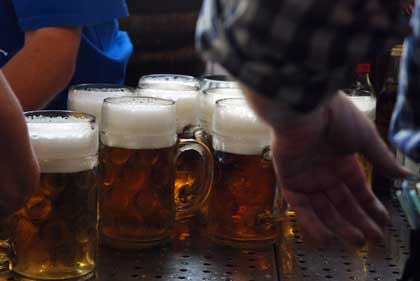 Last week Veronika Springer was crowned Hallertau Hop Queen (Hopfenkönigin) for 2011-2012. I didn't vote for her, but she received 62 percent (1,478) of the votes. The Wolnzach Volkfest tent was rocking, packed with hop farmers and friends washing down traditional festival food with liters of Augustiner.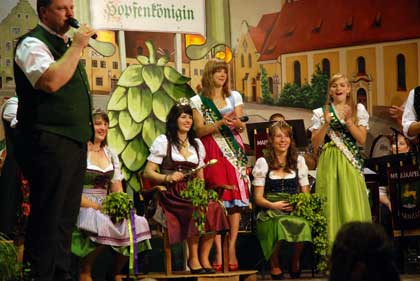 The new queen is well qualified, having grown up on a hop farm and currently working at NATECO2, an extraction plant where hops are the biggest part of the business. She didn't get my support, or that of several of the brewmasters I was seated with, because she seems to be skeptical about the future of "flavor"1 hops.
Change is afoot in Germany and these are brewers who want to be part of it. That doesn't mean they are about to abandon tradition, but it does mean the range of flavors from Halltertau hops will soon be broader.2 The crew at the Hop Research Center at Hüll is not interested in copying American hop flavors, but I was there maybe three minutes before I thought, "These guys are not going to be left behind."
1 With the line between what were once known as "bittering" and "aroma" hops already blurred — and the term "dual purpose" just not cutting it — I'm not sure how the idea of "flavor hops" will fit in, but I heard those words in the UK, Germany and Czech Republic. These could also be called "impact hops." To the continental palate Cascade is a "flavor" hop; while you've got to throw something like Citra or Simcoe at an hop-experienced American for impact. Sound confusing? At least you don't have to sort it out for a book.
2 These hops are also going to show up in beers brewed in America. I can't wait.