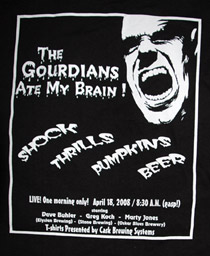 Morning came way too early Friday at the Craft Brewers Conference, but I was committed to put on a Gourdians T-shirt and make it to the 8:30 presentation titled, "Marketing Outside the Pumpkin."
Marty Jones (Oskar Blues), David Buhler (Elysian Brewing) and Greg Koch (Stone Brewing) simply did a masterful job of gonzo marketing their guerilla marketing presentation. They played to a standing-room-only crowd. Not only was Marty putting T-shirts in people's hands on Thursday but they also created posters and backstage VIP passes (Dave Thibodeau of Ska Brewing was sitting next to me and had one of the VIP tags on).
I won't bore you with a bunch of marketing chatter, but this was 60 minutes of proof that beer is about fun, beginning with a foot stomping song. Marty brought his guitar and Dave wasn't shy (Greg was pretty quiet).
It's better with the music, but still might make you smile.
TASTY BEER
© 2008 The Gourdians, All Rights Reserved
OH GOURD WONT YOU FILL ME WITH YOUR TASTY BEER
BEEN A LITTLE QUIET NEED SOME PEOPLE HERE
I'M DIGGING MY BRAIN FOR ONE OR TWO IDEAR
OH GOURD WONT YOU FILL ME WITH YOUR TASTY BEER
OH GOURD DO I HAVE TO BE TOMMY, VINNIE OR SAM
THAT PRESS RELEASE I SENT YOU I'M SURE WAS MARKED AS SPAM
I DON'T HAVE BRETTANOMYCES A BOOK DEAL OR BAND
OH GOURD DO I HAVE TO BE TOMMY, VINNIE OR SAM
OH GOURD WON'T YOU WEAR MY GOURDIAN SHIRT
MR. OLIVER WOULDN'T AND NOW MY FEELINGS HURT
I'VE BEEN TRYING TO BOOST SALES GOTTA SPREAD MY WORT
OH GOURD WON'T YOU WEAR MY GOURDIAN SHIRT
OH GOURD WON'T YOU SEND ME A LARGE OAKEN CASK
I NEED AN AGED BEER AND I NEED IT FAST
IT'S GOOTA BE EXTREME FOR THOSE BEER ADVOCATS
OH GOURD WON'T YOU SEND ME A LARGE OAKEN CASK
OH GOURD WONT YOU FILL ME WITH YOUR TASTY BEER
BEEN A LITTLE QUIET NEED SOME PEOPLE HERE
I'M DIGGING IN MY BRAIN FOR ONE OR TWO IDEAR
OH GOURD WONT YOU FILL ME WITH YOUR TASTY BEER