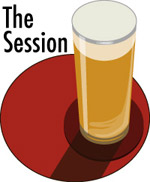 This is my contribution to The Session, hosted this month by the Beer Chicks. They gave us many options, since "New Beer's Resolutions" includes an invitation to "share with us your greats and mistakes of 2009." I'm keeping my mistakes to myself. I fear enough will be apparent when Brewing with Wheat hits store shelves in February.
Every year my favorite moments — beer and otherwise — revolve around sharing. Jon Abernathy hauling out a bottle of the first vintage of The Abyss. Knocking back ounces of Southampton Cuvee Des Fleurs with Sean Paxton at the Great American Beer Festival. Maureen Arthur weaving a tale of courtship, New Glarus Belgian Red in hand . . .
And then there are similar experiences in breweries. I wouldn't be able to write books such as Brew Like a Monk or Brewing with Wheat were it not for the generosity of brewers. And because they share information with each other the overall quality of what's in your glass continues to improve.
So here's a moment from March 31, as recounted in Brewing with Wheat:
"Steven Pauwels grabbed the computer mouse and, click, opened a folder showing the recipes for Boulevard Brewing. He clicked again and the spreadsheet on the large computer screen in front of us revealed the recipe for Unfiltered Wheat Beer in detail, as well as the process. Click again, and the screen displayed a brew house schematic for a batch of Single Wide IPA in progress. Next, he opened a spreadsheet with a recipe for ZÔN, Boulevard's seasonal wit. 'Copy whatever you want,' he said.
"The conversation turned to mashing schedules and a presentation Hans-Peter Drexler had made at the 2008 Craft Brewers Conference in San Diego, revealing 'the secrets' about how Private Weissbierbrauerei G. Schneider & Sohn makes its iconic Schneider Weisse Original. 'Hans-Peter is so open, he could be American,' Pauwels said.
"Here was a Belgian who moved to Kansas City in 1999, talking about a German and himself and sharing every detail of how Boulevard brews its beers. Pardon me for smiling."