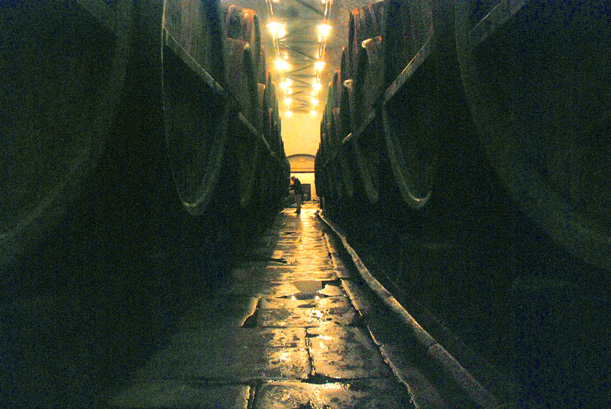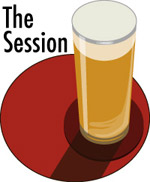 The topic for The Session #93 is "Beer Travel." Hosts Brian and Maria at the Roaming Pint have asked participants to post articles in advance so they can have the roundup ready Friday.
As chance would have it, shortly after I hit publish on this post I'll be in a car headed north, along Highway 61 among other roads. I'd like to be in New Ulm, Minnesota, not to long after dark. It is 556 miles away. There will be little time for detours to check out any Roadside America attractions or the occasional local pie. Time to think, but no time to type.
Instead, here's something I wrote for All About Beer magazine four years ago. I've posted bits and pieces here, but in total I think it addresses the question of why travel about as well as I can.
*****
The tour at Pilsner Urquell begins for real at the end of the production process, in the massive bottling hall. Most breweries prefer to save this show for the end, as Budweiser Budvar does just a few miles down the road in České Budějovice. Bottling lines almost always dazzle visitors, serving as a pièce de résistance. Although the packaging facility here in Plzen might be the most impressive anywhere – it's as big and busy as a train station – we'll soon learn there's a more exciting way to end this tour.
We actually started on a bus, and must return to it to reach the part of the rambling complex where beer itself is brewed. We then ride up the largest elevator in the Czech Republic (it holds the entire tour group) so we can watch a dizzying multi-media presentation. The old brewhouse and coppers offer a hands-on experience, the new brewery with much bigger vessels, both stainless steel and shiny copper, is simply stunning.
All of this is mere eye candy.
Our guide leads us through a stone archway with 1839 inscribed in the slab across the top and into a maze of underground tunnels. Do not get separated from the group, he says, pointing to a map that shows there are nine kilometers (5.6 miles) of hallways cut into sandstone. Urquell once lagered for three months in large wooden barrels that lined the tunnels. Now most are empty, barrels filling just a few. We head toward one with open wooden fermenters.
Twenty years ago the late Michael Jackson took a camera crew through then full tunnels to film an episode of his "Beer Hunter" television series. Standing over a wooden vat that looks just like the ones in front of us now he explained that although most brewing experts told the leadership at Pilsner Urquell they were crazy not to modernize they swore they wouldn't abandon open fermentation. Of course they did, and long before brewing giant SABMiller acquired the brewery.
Now only a bit of beer still fermented in the open and aged in wood, but we're going to get to taste it. The guide explains it is treated in this old manner so brewers can compare the new way to the old and assure the taste hasn't changed, and for visitors on the tour to try. (The brewery museum restaurant in the Plzen town center is the only other place serving this version of Pilsner Urquell.) The beer we'll sample right from the wood, unfiltered and unpasteurized, has been aging for six weeks, twice as long as the Urquell lagered in steel and sold around the world. No surprise, it will not taste exactly like what you drink from a can or bottle or on tap in the rest of the Czech Republic, let alone the world.
The guide has taken the group into the next room to begin tasting. I linger behind, struggling to take a proper picture in the low light. I see a man walking between the barrels, clipboard in hand. He pauses and draws a sample. He writes something down.
Surely he was a brewer.
Unless it was a ghost.
Behind the scenes
While reporting about beer the last 18 years I've been a few places regular tours don't go, but the experiences aren't necessarily any different. We all travel for many reasons, some of them involving beer. On the best trips the physical journey parallels an intellectual or cultural experience. That can happen at the front of the house just as well as well as behind the scenes.
I'm astonished reading the resumes of those who enter Wynkoop Brewing's Beerdrinker of the Year competition how many festivals, pubs and special events some people manage to visit. How many states and how many countries, or how many people manage an annual pilgrimage to the Oregon Brewers Festival or De Nacht van de Grote Dorst in Belgium. Let's not fool ourselves, part of the attraction is that beer is an alcoholic beverage, but these frequent beer travelers also always talk about discovery.
On that Sunday in Plzen our family signed up for the factory tour (that's what SABMiller calls it), 150 Czech Koruna (about $7.50) for adults, 100 more for the right to take pictures. We like factory tours — Ben & Jerry's in Vermont, Gruyère cheese in Switzerland or Harry & David's in Oregon &#151 and the best showcase the production process without interrupting production itself. That's not always easy when you invite visitors to watch you at work.
If instead a brewer had led me through Pilsner Urquell I might have left with details #151; for instance specifics about the decoction mash or hop additions #151; that aren't part of any public tour. But I probably wouldn't have seen that ghost.
In contrast, I wouldn't know the beers at Private Weissbierbrauerei G. Schneider & Sohn in Germany nearly as well had I not been allowed behind the scenes. For practical reasons a basic tour does not pass through the fermentation room, where yeast turns wort into beer in open tanks. Brewmaster Hans-Peter Drexler calls it the soul of the brewery. Speaking at a brewers conference in 2008 Drexler revealed all the "secrets" involved in brewing Schneider weiss beer to a room full of Americans, but understanding him fully requires standing beside him in his brewery.
Walking between large circular fermenters he explains how brewers still use slotted spoons to skim hop resins and trub off the top of the yeast. "The flavors are very hard and bitter," he says. "For me it is important to remove them." On his left yeast climbs high in a tank full of wort on its way to being the strong wheat doppelbock called Aventinus. On his right fermentation only recently started on what will be a batch of Schneider Original. A small hole opens in the middle of the yeast blanket, briefly revealing the wort below before closing again.
It is alive.
The rhythm of the brewery
The bar at Russian River Brewing in downtown Santa Rosa, California, and the In de Vrede café across from abbey Saint Sixtus of Westvleteren in Belgium are both on any beer traveler's bucket list, and all a drinker needs to know about the beers is in the glass. On the surface the breweries appear about as different as two beers they produce, Pliny the Elder and Westvleteren 12 respectively. One the ultimate expression of American hops; the other deep and contemplative. Russian River, making beer at the downtown pub as well as production brewery nearby, squeezes all of it can out its equipment and limited space. Westvelteren pays no attention to demand although the monks who run the brewery could produce more. However at both the beer seemingly has a voice in deciding when it will be sold.
The rhythm of monastic life, framed by seven daily prayers, remains intact within the abbey brewery, situated on what was the agrarian side of the complex when it was home to a much larger community. The monks brew seventy times a year – during twenty-five to twenty-six weeks and two to three days per week. They brew one week and bottle the next, adding yeast taken from a high krauesen off a batch started the previous week.
Because Westvleteren neither filters nor centrifuges, yeast, hops, and proteins must settle out naturally. "The length depends on the speed of becoming clear," says Brother Joris, the monk in charge of both the brewery and the library. Westvelteren 8 usually takes at least a month, and Westvleteren 12 might take two months to ten weeks, "when you get a difficult one."
Russian River co-founder and brewmaster Vinnie Cilurzo relearned the role time plays when he began aging some of his beers in barrels. After he literally grew up in a winery one of the attractions of brewing wasn't he didn't have to wait a year before a fermented beverage was ready to drink.
On this particular June day at the brewpub he is transferring a brown ale that eventually will be a beer called Supplication into wine barrels that not long ago held pinot noir. He recently acquired 120 wine barrels from Flowers Vineyard and Winery. He and assistants dosed 10 with cherries and Brettanomyces yesterday afternoon and hauled them over from the production brewery, where the rest of the barrels will be filled. The base for this batch was made at the brewpub, will age at the brewpub and will only be served at the brewpub. "I like that it is special to the pub," Cilurzo says. "The barrel room is so alive (with wild yeast)."
As he empties the contents of a stainless steel fermenter into the barrels the aromas of cherries and pinot noir rush from the bung hole at the top of each barrel, only hinting of what Supplication will smell and taste like more than a year from now.
He notices a small problem. A barrel is leaking. He hurries into his office, returning with toothpicks, garlic and chalk. "It's an old winemakers' trick," he says, coating the toothpick with garlic, plugging the hole and covering it with chalk. Later, as he is transferring barrels to the storage room a red stream begins spilling from still another barrel. (At this point I can't help but think of a certified beer geek trailing behind, tongue out.) He wheels it back and goes to work. "Fortunately it is at the top," he says, "so it will stop soon."
As at Westvleteren there is a rhythm. "We've really got the process down to a time science," Cilurzo says. "We add the same amount of Brett and fruit (in the versions that include fruit) each time. After two months we top it up and add the other bugs (a house blend of still more wild yeasts). We add a hard bung and don't open it until it's ready to bottle."
And as at Westveleteren some beers keep their own schedule. Consecration, aged with currants in cabernet sauvignon barrels, is ready to bottle in six months, but may benefit with more time in the bottles because of bold wine flavors and tannins. "Supplicaton will probably have the flavor we want at nine months, but it will be lacking acidity," Cilurzo says. It might be ready to bottle in twelve months. It could take fifteen.
The best laid plans . . .
The day before touring Pilsner Urquell we visited the town of Český Krumlov, a UNESCO World Heritage site and second only after Prague in our list places to see in the Czech Republic. A couple of months before a friend told us to be sure to tour the brewery, but not until we'd been walking through the narrow cobblestone streets for several hours did we discover the only tour of the day had already gone.
Before settling in at the brewery's restaurant, located above the lagering cellars as it turns out, for a late lunch we headed over to peak through a closed gate into the brewery yard. What might best be described as a snack shack sat not far from the entry. A man inside waved and signaled us to come around the back, where he held the door open.
Two men greeted us in Czech. They spoke no English. We speak no Czech. The man obviously in charge pointed toward the beer taps and made it clear there would be only one draft choice, because like the food menus on the wall the other tap handles were for busier days. The beer turned out to be a slightly cloudy unfiltered pale lager. A dark beer was available in bottles. We had one of each, sitting on a narrow bench in the storage room. We continued to speak English, smile and gesture. He spoke Czech, smiled and gestured. Occasionally the second man, wearing a leather cowboy hat, mumbled a few words (he apparently had been drinking a while and eventually wandered off).
We somehow discovered he had Eggenberg T-shirts for sale (fortunately we'd be able to do laundry soon, because like everything else in the small shack the shirt smelled like the inside of an ashtray) and when it came time to pay he pointed to numbers on the menu to let us know how much we owed. The beers cost about $2 for two half liters, the T-shirt $3.
We had more beer with lunch, but it didn't taste as good as in that shack, a place we never would have ended up had we planned more carefully.
Sometimes the best tour is the tour not taken.