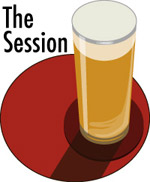 Somebody at the San Francisco Chronicle must have got the wrong memo. They've got a feature today about wine & music. Hey guys, the theme of today's Session is Beer & Music.
Music to drink wine by: Vintner insists music can change wine's flavors is no lightweight read. It runs almost 1,900 words.
As the writer notes, Clark Smith qualifies as a wine industry provocateur, so the response has been mixed.
"Just about everybody who hears about what I'm doing is either completely baffled by what I have to say or they think it's so obvious that they don't see any point in talking about it," he said.
It's worth your time to read the whole thing, but here's a snippet:
He has even found a piece of music (the North Water Street Tavern Band's polka-like "Milorganite Blues") that made Sutter Home White Zinfandel taste better than any of the reds, including his own $100 Cab.

Smith has only a few guidelines so far for music and wine pairing.

"Never play polkas with anything," he says, unless you really like White Zinfandel.

"Red wines need either minor key or they need music that has negative emotion. They don't like happy music. With expensive reds, don't play music that makes you giggle. Pinots like sexy music. Cabernets like angry music. It's very hard to find a piece of music that's good for both Pinot and Cabernet."

Smith may be onto something here, but typically, pronouncements like "Cabernet tastes better by firelight, in a cave" aren't quite scientific enough for the academic community.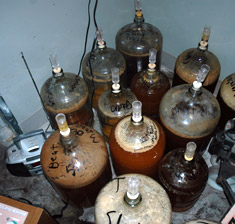 This reminded me of a story from Russian River Brewing owner/brewer Vinnie Cilurzo. Cilurzo worked at his family's winery when he was growing up and said that his father used to play Frank Sinatra for the wine while it was fermenting. (Before his father started the winery he was an Emmy-winning lighting director, working with the likes of Sinatra.)
The picture is from the barrel room at Russian River. Notice the boom box by the carboys (which happen to be full of enough wild yeast to destroy a major American mainstream brewery). "My dad played Sinatra," Cilurzo said. "I play rock music."
He was talking about what his barrel-aged beers "listen" to, but I wish he'd added, "And it makes the yeast go wild."
Also related: Lucy Saunders' post on tonal progressions and pairings.
Further reading: This is Your Brain on Music.