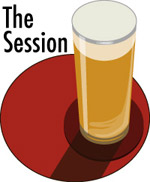 So much for planning ahead. The topic for The Session this month is "What the hell has America done to beer?" or "USA versus Old World Beer Culture."
I'm not sure if that is one discussion or two, but without any thought toward today just Monday, responding to Boak and Bailey's request to go long, I posted enough about "what the hell America is doing to beer?" to tide us over for a while.
But I struggle mightily with the notion there are only two beer culture tents: "USA" and "Old World."
Is there a single American beer culture? So that we put the people drinking retro tall boys at a Chris Knight concert here, people paying $9 a pint in a Manhattan bar here, everybody in Portland (Maine or Oregon, take your pick) over there, tourists at the new Anheuser-Busch biergarten in St. Louis together with regulars at the Urban Chesnut Brewing beer garden four miles away . . . no, wait, those last two don't belong together.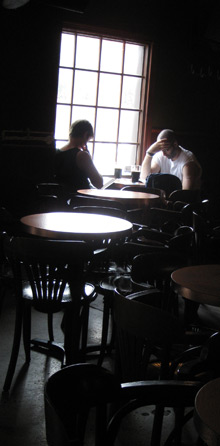 Are beer drinkers in Berlin (HT to Evan Rail) and Bamberg part of the same beer culture? At a London "craft beer" bar and in a country pub? How about La Cave à Bulles in Paris and Omerta in Krakow (HT to "The Pocket Beer Guide: The Essential Handbook to the Very Best Beers in the World")?
Are we talking beer cultures and beer subcultures? Should we be talking about beer culture as a subculture of a nation's culture (or perhaps a region's)?1 These strike me as more interesting questions. Ones that should be asked over beer — OK, over beer in a romantic Old World setting — rather than at 10:30 in the morning. That way you don't feel as bad when you fail to come up with an answer.
Adrian Dingle volunteered to host The Session because he has an agenda, which he lays out in 2,000-plus words. There are things there to agree with. I'm no more thrilled about "best of" lists in wich 28 of the 25 beers contain 12% alcohol or more than when I railed against them in the past, but I'd be repeating myself. As well as reading Ding's full post be sure to use the links in the comments following his original post. Unlike here, you'll find actual answers to the question he posed.
When The Session began six-and-a-half years ago the idea was contributors would write to the same topic, maybe even a style, and also about a specific beer they were tasting. I'm not sure what this says about American beer culture, but last Sunday at Second City in Chicago I had a glass of Sierra Nevada Pale Ale that was as good as a glass of beer can be. Full of flavor, crisp, refreshing, and — yes — bitter. So I had another. Just as good. Full of flavor, crisp, refreshing, and — yes — bitter. End of tasting notes.
***
1 My answer would be whatever a beer culture is it is a subculture of a region's culture. Try drinking two Double IPAs and saying that fast.