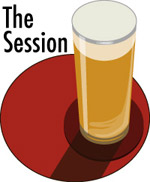 When 99 Pours announced the topic for The Session #68 would be novelty beers who knew that Wynkoop Brewing would brew a beer with bull testicles? Other than brewmaster Andy Brown and master promoter Marty Jones, of course.
That was pretty much "all in" for a novelty beer.
Too bad, because I was pretty sure I had a winner, and simply because I knew the right people. A few years back for a story that appeared in American Brewer I asked Ron Pattinson and Randy Mosher to pick the 'original" extreme beer.
Pattinson wrote back, "Well Danziger Joppenbier is hard to beat. It was around since at least the 1700s. It was like Mumme, but even weirder." Curiously, although the beer was brewed in Danzig most of its sales were in Britain, where it was spelled Jopenbier.
Mosher, author of Radical Brewing and Tasting Beer, came up with the exact same answer. "The weirdest one I've run across is Danziger (Gdansk) Jopenbier, a . . . beer that started as a malt syrup at over 50°Plato (not a typo, fifty), fermented spontaneously with a variety of oxidative yeasts and possessing a lot of sherrylike qualities," he wrote in an e-mail.
When stories about Wynkoop's Rocky Mountain Stout went viral I saw a few tweets from people who wrote they plan to make it the first beer they try next week at the Great American Beer Festival. I, on the other hand, will be the guy looking for Jopenbier.