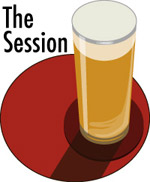 Greg Clow has made the call and the theme for the next session, Aug. 3, is Fruit Beer.
Aside from the stipulation that it be a beer brewed/augmented with fruit (or fruit juice or extract), there are no other rules or guidelines. Anything is fair game, from a tart and funky Kriek or Framboise, to a sugar-laden "lambic", to a Blueberry Wheat or Raspberry Ale from your local brewpub.
We'll be in Massachusetts on that Friday, so I don't know if I'll wait and go for something local and fresh – you'll be thinking that way after you read how Greg settled on the theme – or with an old favorite.