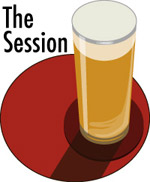 Jon Abernathy has posted the roundup for The Session #54: Sour Beer.
I must confess I was absent. (I only managed a post for #IPADay because I wrote it before hitting the road.)
But I enjoyed the roundup and plan to further investigate the links when I'm back on U.S. soil. Meanwhile I will be considering if you really can drink any beer, even one that is less than 3.5% abv, "all day by the pool without over indulging." This evening, wandering round this lovely town of Wolnzach, I discovered that some people in Bavaria have swimming pools in their backyards. Something you don't think about. But I didn't spot any Berliner weisse, even though there's a biergartedn about every three blocks.