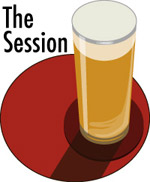 John Holl has announced the topic for The Session #53: Beer Redemption.
No, he not suggesting everybody track down a bottle of Russian River Brewing's Redemption.
Holl explains by offering a story about why refused to drink beer from Smuttynose Brewing for nine years, and ultimately how silly that decision was. It his story of redemption and he'd like participants to tell their own July 1.