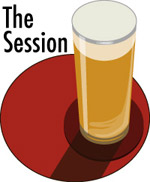 In the words of the immortal Alan McLeod, "Holy Frig – it's already time for the 41st edition of The Session." The topic for discussion is "Craft Beers Inspired By Homebrewing," Lug Wrench Brewing is hosting and it appears a coyote (we don't have a dog; coyotes live nearby) ate my homework.
But I can tell you a little something you might not have noticed. The champion Scotch & Barley Wines at the 2010 Australian International Beer Awards was the Samuel Adams LongShot Barley Wine released earlier this year as "Mile High Barley Wine Ale."
Quick background, in case you aren't familiar with the LongShot contest. Boston Beer, brewer of the Samuel Adams beers, holds a national contest each year for homebrewers. Regional winners send their beers to Boston, where they are judged by a panel that includes Boston Beer founder Jim Koch.
Two winners are chosen, and the brewers at Boston Beer turn those recipes into beers distributed nationally in a six-pack that also includes a recipe from the Boston Beer employee contest. Two beers from each winner, six beers total.
"Mile High Barley Wine" is called that because the recipe comes from Rio Rancho, just up the hill from us (we're at about 5,100 feet). So I've had the homebrewed version, the batch that Boston Beer brought to the Great American Beer Festival when it was announced Ben Miller's recipe was one of the two winners, right when it was released in April and just the other day. Never quite the same, but that's an aside.
So I've heard the story more than once about how when Ben brewed the beer the yeast he used pooped out, and he had to add more (so the beer wasn't sickly sweet). Thus it was interesting last fall to talk to Koch about the beer.
"It had a lot of fermentation complexity . . . that consumed the alcohol," he said.
He also discussed his own approach to the judging process (he gets but one vote).
"I drink it, I think, I close my eyes. I see a number and I write the number down."