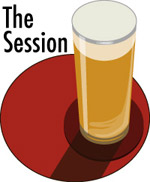 SirRon at The Ferm has announced the topic for Session #37, so we begin the fourth year of first Friday drinking with marching orders to write about "The Display Shelf: When to Drink the Good Stuff."
The explanation:
"The topic is open ended and the rules of The Session are close to nil. You can use your post to be persuasive or therapeutic. You may choose to tell a story of a great bottle you once opened or boast of your own beer collection."
I've been to the "cellar" (we live on sand, a basement is out of the question, so we forego romance, using a temperature-controlled chest freezer) and asked for volunteers.