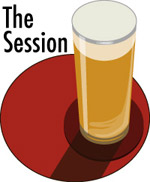 It's Saturday morning and I'm sitting down to write my contribution to The Session #36: Cask-Conditioned Ale. I'm running behind because I just spent the last hour or so reading all the contributions host Tom Cizauskas solicited. Really wonderful and worth your time.
I particularly like Steve Hamburg's recollections from the early, then later, days of the Chicago Real Ale Festival. He's not kidding when he writes about how lively (explosive is a proper synonym in this case) some of the casks were. I recall standing with him and Roger Deschner, who also did much of the cellar work, and another member of the Chicago Beer Society in 1997 and listening to Roger explain why there was a large dark circle on the ceiling.
This third CBS member was rambling on about how "big" cask ale was about to become and Steve was politely explaining it was a niche within a niche. It still is, but the Real Ale Festival grew larger and quicker than any sane person would expect and likewise the number of places you'll find something that at least vaguely resembles cask ale.
Of course, as Hamburg writes, there's still work to be done.
Unfortunately, too many American beer drinkers have only been exposed to a more false representation of real ale, where the "show" takes precedence over the beauty and elegance of the beer in the glass.
After reading that I went looking for a quote from Graham Tock collected in 1996 or so. I found it in a story written in 1997. Although much of it is dated I think it represents the state of "American real ale" at the time and decided to put article in in The Library.
A week before the first Real Ale Festival I helped All About Beer magazine organize a seminar in a Denver hotel on the Saturday morning of the Great American Beer Festival. Mark Dorber, who would take charge of the cellar the next week in Chicago, and Roger Protz spoke about real ale. We had a few versions of "American real ale" but the stars of the show were to be casks from Fuller's and Young's in London.
When I arrived in Denver on Wednesday the cask of Fuller's was already at the hotel. Following Dorber's instructions a hotel janitor cut blocks of wood and put it in stillage. Dorber tapped and spiled the cask and set it to conditioning. We propped open the back doors to the room where the seminar would be held and turned it into a proper cellar.
By Friday the Fuller's was tasting pretty good but the Young's was still nowhere to be seen. It arrived Saturday morning, an hour before we were to start. Dorber shook his head. No point in even trying. So I rolled the cask to the elevator, took it up three flights, and rolled it to our room. The next day I rolled it back to the elevator, took it to the garage, rolled it to our van and drove it 950 miles to Peoria, Illinois. Two days later I loaded it in the trunk of our Saturn, listening it occasionally bang around during the 150-mile trip to the Goose Island brewpub in Chicago.
Remember the beer had already traveled from London to Denver and been waylayed by customs. It hadn't exactly been coddled before Dorber took charge of it in Chicago.
Three days later it was pouring and tasting brilliant.
I realized then somebody should market a bumper sticker that says, "Have you kissed your cellarman today?"
*****
Later today: Cask ale in Albuquerque in 2010.