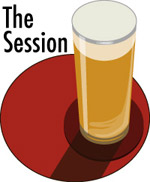 This is my contribution to The Session #28, hosted by Brian Yaeger. I'm posting early because we'll be amongst tall trees on Friday, a canopy the Internet cannot penetrate. Visit Brian's blog on Friday for links to more posts.
For The Session this month Brian asks us to write about the brewery whose beer we've enjoyed the longest distance from our home. I figured from the outset that hops would be involved, because I thought this would be an opportunity to tell another story about drinking hoppy pilsners in small towns in the Czech Republic or hoppy ales in Vienna (I would have written about the HopDevil Ale at the 1516 brewpub while consuming Victory's HopDevil here.) But when I did the math using two different online mapping services, two because the results surprised me, I discovered the south of Italy is farther from our Corrales home.
Not that I had to quit thinking about hops.
Although we didn't visit Birra del Borgo west of Rome, we had several of the brewery's beers at Bir & Fud in Rome, the restaurant del Borgo founder/brewer Leonardo di Vincenzo co-owns. I interviewed him for a story in the current DRAFT magazine at Ma Che Siete Venuti A Fa', a wonderful pub across the street that features Italian craft beers on tap along with rarities from Franconia and Belgium.
The options that evening included del Borgo's Re Ale from a handpump, a rather easy choice for both Daria and I. It's an American Pale Ale even if it is brewed in Italy, rich in Northwest American hop flavor and aroma. I took one deep whiff and told di Vincenzo, "Smells like home."
By "home" I meant the United States in general, but sure as hell could have said "California," where we've been for going on a month. Since we're off to Oregon next there's little doubt that when we return to New Mexico some of our clothes may still smell of grapefruit and pine.
Although B. United imports some of del Borgo's beers Re Ale is not to be found anywhere we've been recently. So, back to Brian's instructions and alternative #3: "find a local beer of the same style and do a little compare and contrast."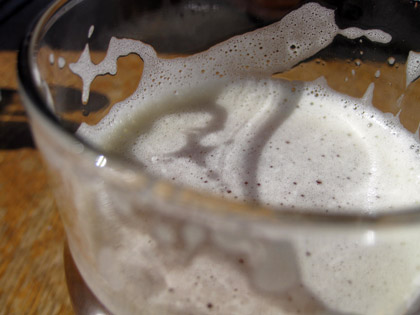 That beer is North Coast Red Seal Ale. The bonus being I also had it from a handpump, in this case at North Coast's pub across the street from the brewery in Fort Bragg. Sorry, no real compare and contrast here. I will simply suggest you too should find a place serving Red Seal cask-conditioned. The hops are delightfully floral and packed with grapefruity aromas, but softer on the palate than when you pour a glass from the bottle. The texture in the mouth is a pure delight, and the finish just as dry and bitter as from the bottle.
How was it like Re Ale, how was it different? I was too busy enjoying Red Seal to consider that, just like I ultimately enjoyed Re Ale last October more because of the flavor than because of any memories of home.
Is there a takeaway message? You decide.