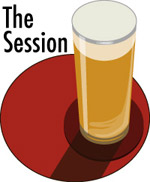 Memo to Greg Koch: Here's a fizzy yellow lager you can cuddle up to. Not all that yellow, I guess, and not necessarily that fizzy. But definitely a lager, a puny 3.7% abv beer in the Munich Helles tradition.
A beer I last enjoyed about six months ago, but I remember well enough to feature as my contribution to The Session #25: Lager Love. And since I won't be around today to keep up with how this plays out on Twitter, I'll give you a series of thoughts, all less than 140 characters.
– Surtaler Leichter Typ is light colored, although I don't know I'd use the word yellow. But when your host asks you have to do your best to oblige.
– Private Landbrauerei Schönram in the German village of Schönram-Petting near Salzburg, Austria, brews the beer.
– It earned a silver medal as a European Light Lager in the European Beer Star competition.
– Yes, it's a light version of the brewery's best selling helles (65 percent of sales – a dang nice beer at 5.4% abv).
– You can drink this all night, well maybe 5 liters, and maybe blow .04 on a breathalyzer (the brewer and owner did this to make sure).
– A great beer to shift to after several "big" ones. Because you can still taste it. This isn't water.
– Smooth (lagered for a silly amount of time), bready, grassy, lots of noble hops.
– Goes well with conversation.
– It says 3.4% on the label, it's really 3.7% and it tastes twice as big as a 4.2% American light.
– I want this beer brewed close to my home. Not a beer meant to travel, so don't try it more than 20 kilometers from the brewery.
– Twitter pretty much sucks when it comes to describing the pleasure of drinking this beer.