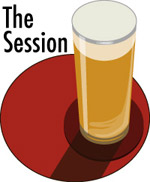 Alistair Reece has announced the topic for The Session #140 will be Pivo, or Czech beer — they are, after all, the same.
He writes, "In the autumn of 1999 I jumped on a bus at London's Victoria Bus Station and spent the next 20 or so hours making my way across Europe to the mother of cities. The Czech Republic, most specifically Prague, would be my home for the next ten years, although my original plan had been just one year and then moving on to visit as many former Soviet countries as possible, best laid plans of mice and men, and all that jazz. I still remember my first Czech beer in situ, I'd had a couple of Czech lagers as a college student in Birmingham, a half litre of 10° Budvar in a little pizza place among the paneláky of ?erný Most. Beer was to be part and parcel of life for the duration of my stay in the country I still wistfully think of home. That my dear readers is the theme then for The Session this Friday, Czech beer."
And he asks for, "a love song to Bohemia and her beers, the land that gave us the original pilsner, and so much more."
My wish is that @evanrail and @beervana join The Session on Friday.