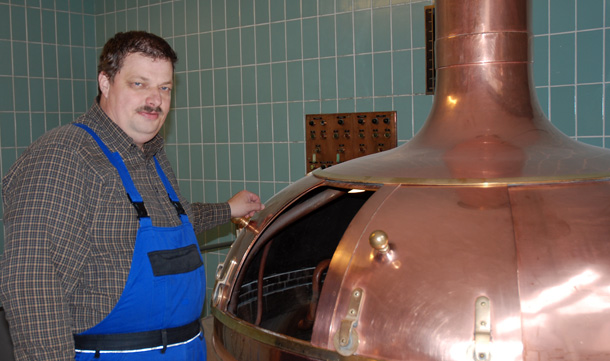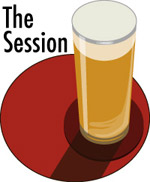 The topic for The Session #137 today is German Wheat Beers. Head over to Roger's Beers to see what other contributors are writing.
It's been almost 10 years since we stayed at Brauerei Gasthof Schneider in Bavaria, owner Josef Schneider (pictured above) gave me a tour, and later I talked with his son, Matthias. Matthias attended brewing school and worked for Paulaner in China before returning home in 2008. What I learned appeared in Brewing With Wheat, so here's an excerpt, with a brief update at the end.
Listening to Josef Schneider talk about brewing wheat beers could make you start to think it is simple.
Does he worry about haze stability?
"You brew the beer right, you serve it fresh, it is not a problem."
Would he consider making a beer without using a decoction mash? (The look on his face indicated just how crazy he thought this question was, but he answered anyway.)
"Bavarian beer must have more malt flavor. You must cook it long to make it that way. Otherwise you have Warsteiner . . . or American beer."

Why is open fermentation important for his beer?
Looking like a man who had just stepped on a carton of rotten eggs he pinched his nose. "This must come out."
Why does he bottle condition all his weissbier, rather than offer some of it on draft as well?
"It's like sex and Champagne, worth the bother."
Schneider owns Brauerei Gasthof Schneider. A brewery has operated on the same site in Essing since 1640 and been owned by the Schneiders since 1887. This can cause some confusion because the internationally famous Schneider & Sohn brewery is located about five miles up the road in Kelheim.
For good reason, Josef Schneider stamps "Kleines Brauhaus im Altmühl" on his crates. Essing is a sliver of a town, squeezed between the Altmühl River and rocky cliffs. Castle ruins overlook the town, which is popular with hikers, cyclists, and those who ride the river on tour boats. Schneider brews about fifty times during a year, some batches yielding 30 hectoliters and others less, with wheat beers accounting for 60 percent of production.
He follows a step-and-decoction regimen that is common in the region (45/52/63/72° C, with the decoction at 63, which translates to 113/126/145/162° F), and still uses a grant during lautering. His Weizenbier includes 60 percent wheat malt ("I tried others. This is best."), 12% dark Munich, 3% acidulated malt, 10% Carahell, 10% dark malt (600 EBC) and 5% Pilsener malt. He adds Hallertau pellets at the beginning of a 90-minute boil, targeting 12 IBU.
Fermentation begins at 59° F (15° C) and rises to 68 to 69° F (20 or 21° C) in 4 to 5 days in square open fermenters. The beer rests, then conditions for just 2 or 3 days at close to freezing and is ready for bottling with speise taken from the most recent brew, regardless of style. Describing the process Schneider walks under an arch that was the only part of the brewery to survive a fire in 1870, out the door and points to a truck parked beside the brewery. He brews Weizenbier when the weather is moderate, so the enclosed back of the truck makes a perfect spot for bottle conditioning.
*****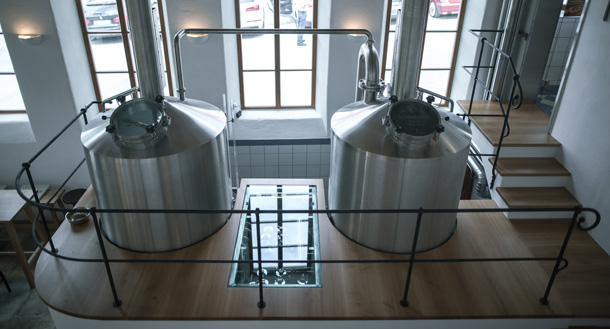 The update: The Schneiders recently built a new hotel, opening it in April along with a new "show brewery" (pictured). The old brewery was decommissioned. Josef Schneider continues to brew, and has been joined by Matthias in the brewery.