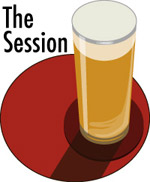 In the first two contributions to The Session #132 (Homebrewing Conversations) I read Boak & Bailey explained why their homebrewing kit remains in the attic and Alan McLeod wrote it was "no hobby for this old man."
And I thought about Fred Eckhardt (longtime "dean of American beer writers" until his death in 2015), talking about the first beer he brewed and why he quit. The stories are deep within this longer collection of paragraphs, so here are quick extracts.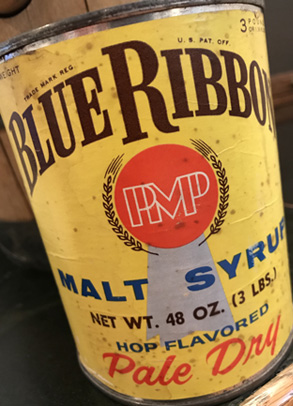 Eckhardt's experience with his stepfather's homebrew in the 1940s was pretty common. The recipe for 10 gallons included a 3-pound can of Blue Ribbon Hop Flavored Malt Extract, 10 pounds of sugar, water and a cube of Fleischmann's Yeast. "It was hideous beer, but it had alcohol and it did sustain me and my friends in college," he said.

He began learning about winemaking in the 1960s, but had no interest in recreating his stepfather's homebrew. During a trip to San Francisco in 1968, just a few years after Fritz Maytag had rescued Anchor Brewing Co. and its unique steam beer from extinction, Eckhardt enjoyed an Anchor Steam with a friend.

"He said, 'This tastes just like homebrew' and I thought, 'You don't know what homebrew tastes like,'" Eckhardt said. "Then I thought, wouldn't it be wonderful if we could make beer like this?"

Given the amount of information available to homebrewers today — in print, on the internet, from other brewers — it's hard to imagine now what a formidable task that seemed to be 30 years ago.

Eckhardt ended up writing a booklet called "A Treatise on Lager Beer" because there was nothing like it, and various editions sold 120,000 copies in the next 11 years.
And why he quit.
I was on national TV as the last person in the country to brew illegally," he said. NBC sent a cameraman to his house the night before homebrewing was legalized (in 1978) to shoot video of boiling wort through a window.

"I made the beer (a barley wine) and I never bottled it — I just forgot about it for years," Eckhardt said. "That's one of the reasons I quit homebrewing, the bottling. I used to bottle four or five bottles from a batch to get the information (for articles he was writing about brewing) and leave the rest."

. . . he has spoken to scores of homebrew clubs across the country. "The crazier the group, the more successful," he said. The Foam Rangers in Houston invited him back every year to lead a beer tasting during the Dixie Cup, a homebrew competition and celebration unlike any other. They produce a new "Fred T-shirt" every year with Eckhardt's likeness on it.

Winemakers do nothing comparable. "Winemakers are so serious. Beermakers are frivolous," he said.
Here's to frivolous.