Where have you gone, Joe's Gueuze
Our nation turns its lonely eyes to you
Wu wu wu
– With apologies to Paul Simon
There was the time, just after last call went out on a Friday night, that I was standing at the bar at Joe's Brewery in Champaign, Illinois, and the young person in front of me—who may or may not have using a legal ID card— threw up all over the nicely polished wood surface. So some times were better to visit than others.
Like Tuesday afternoons. We did not witness this ourselves, but John Isenhour, who brewed the gueuze Michael Jackson gave three stars (out of four) in the sixth edition of his Pocket Guide to Beer, said that is when farmers from the surrounding rural area would come in to try what they called "Belgian lemonade."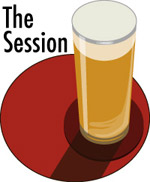 I haven't thought about Joe's or any of the beers that were once made there in some time, but did today because Dave Bardallis has asked us to write about "Late, Lamented Loves" for the 124th gathering of The Session. Daria and I wrote the "Breweries You Never Heard Of" column for Brew Your Own magazine for about a year and a half in the mid-90s, and Joe's was the first one we profiled. A few of the breweries became well known—such as Saint Arnold Brewing and Weyerbacher Brewin—but many disappeared. Joe's, the bar, is still there; the brewery itself is 20 years gone. We used to go to the brewpub when we were in Champaign to visit family and now there are other breweries to visit when we are back there.
Even when Joe's was serving memorable beer it was, first of all, a campus bar in the midst of the University of Illinois' entertainment zone, deriving most of its revenue from sales of light beer. These days it advertises 20 plasma TVs and a gigantic dance floor. At the time the brewpub was operating Champaign's mayor once threatened to put a bottom-end cap on beer prices because local bars used special likes "quarter beer night" (and that was for a pitcher, not just a glass) to attract customers.
The brewpub began life in 1991 as Chief's Brewing Co., which focused on selling its own beer and died a quick death. New owners took it over in 1992, and for several years employees downplayed the fact that beer was brewed there. Despite the quality beer made by former head brewer Bill Morgan (who departed for Diamondback Brewing Co. in Cleveland), the beer frequently lingered on tap for several months. Isenhour, who was completing his doctorate in informational science at the U of I, began assisting Morgan soon after his first visit to Joe's, and took over as head brewer when Morgan left in 1995. Isenhour had been brewing at home for almost 20 years and 1995 he won third place for a lambic in the American Homebrewers Association National Homebrew Competition.
The brewery did not have mash tun. It was designed to produce seven barrels at a time using malt extract, and the kettle was fabricated by a a company that otherwsie made equipment designed to melt metal. Isenhour and assistant Stepehn Bernard managed to do a partial mash by using what Isenhour called a "poor man's lauter tun"—a 45-gallon bucket filled with specialty grains. The brewers suspended a very large grain bag in the container so it would not touch the bottom. A tri-clamp fitting at the bottom allowed them to pump wort into the bottom of the kettle, and about halfway up the kettle was a port used for stirring in malt and whirlpooling at the end of the boil. They drew liquor from that to the top of the "sparge-o-matic," making a liquid circuit that ran until all the "worty goodness" was extracted from the grain. Isenhour once introduced up to 150 pounds of grain into the system using this method. "I may never do that again," he shortly thereafter. And he didn't.
It's cliche, but it really was a different time. The gueuze was an oddity worth mentioning, but in 1996 IPA wasn't all that common,and HopHead Ale was outside, as was Academic Ale, a 4% ABV ordinary bitter packed with flavor. Joe's ceased brewing during the first "shakeout" that began circa 1997, although not necessarily for the same reasons as many other breweries. Not long after we wrote the story about Joe's for BYO, one day when Isenhour came to work the owner pulled him aside to tell him he was replacing the brewery with a widescreen television.
He finished up his PhD and moved on. Now he is Chief Technology Officer as Kennesaw State University and an associate professor whose classes focus on both the scientific and cultural aspects of brewing. His doctoral thesis dealt, in part, with how brewers have communicated with each other since before written records were kept.
When we visited Joe's to collect information for our story he showed us his recipe book, explaining why he was happy to share them. "Some people are very proprietary about their recipes," he said. "I like this beer. If everybody made beer like this, I could go anywhere and drink the beer. It would be great."
Very practical guy.