Out of hops? Try scallops.
British brewer Shepherd Neame has used them to make Scallop Stout.
"There's a hint of smokiness and a slight taste of the sea but no fishiness. I can find no scientific reason for why it works, but it does," brewer Stewart Main said. The newspaper report states the 3.7% abv beer "is made using traditional methods but with a handful of scallops thrown in for an hour."
Bivalves and stouts aren't exactly strangers. Not only have Guinness and other producers long advertised serving oysters with stout but once in a while brewers even tossed them into kettle.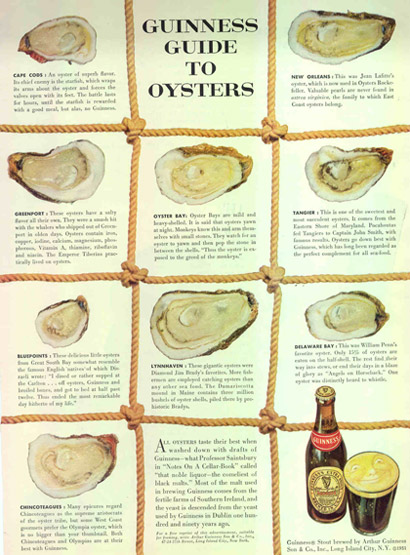 It can get confusing. For instance, Marston's Oyster Stout contains no oysters.
Writing about oyster stouts several years ago, Michael Jackson made it clear ("Heaven sent – downing oysters by the pint") there is a balance to be struck, be it stouts with oysters included or in finding the right stout to go with oysters.
A stout must lean to the dry side if it's to accompany oysters. Despite its fullness of body, Guinness's Dublin-brewed, strong (7.5 per cent) and quaintly named Foreign Extra Stout does the trick. especially if it is lightly chilled. The regular bottled or canned stuff is arguably too sweet and the jury is out on the draught version.

Murphy's and Beamish are barely dry enough, but there is a case for the peppery, spicy Cain's Superior Stout, from Liverpool. I have long loved the toasty, faintly anise-like porter from Harvey's of Lewes, East Sussex.
Not sure what he would have written about Scallop Stout.
However, What to Drink with What You Eat
includes a story from Brooklyn Brewery brewmaster Garrett Oliver:
"One of the funnest dinners I have ever done was with the Westchester association of country club chefs. I paired seared diver sea scallops with brown butter sauce with a Taddy Porter from Samuel Smith, which is a dark beer with a buttery, residual sugar and caramel taste to it, and a slightly chocolatey aroma.
"They were surprised to see a light dish with a dark beer. We deconstructed the scallop, which is sweet, with a caramel sear, and the butter in the brown butter sauce. With the beer, I am delivering a round, soft buttery flavor with caramel.
"You have carbonation that scrubs the palate and removes fat and oil. This audience of chefs was shocked, and said it was one of the best food and beverage combinations they ever had."