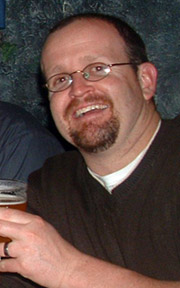 If you haven't already read Fortune magazine's interview with SABMiller CEO Graham Mackay then you don't have to hurry over to the CNN Money site to do so, because …
Only on the Internet could you have the brewer from Lost Abbey Brewing and the CEO of the world's second largest brewer in a round table discussion (OK, with two guys maybe the table isn't round). And only when Tomme Arthur (Lost Abbey) is blogging. (He, not Mackay, is the one pictured here.)
Arthur has taken the interview and added his own comments along with Mackay's. For example:
How would you characterize the company's fiscal year just ended?
The SAB Miller Answer- The year gone by has been very successful. Latin America was amongst the strongest regions of growth, but Europe was as impressive. And we also had very strong volume growth in Asia, so our performance all around is strong.
Tomme Responds- Well, we're still in business after our first year. I think that's pretty kick ass. We made a bunch of new beers and we didn't kill anybody. As for Latin America, it was our weakest region but Europe was awesome.
How do you think this would have gone had Matthew Boyle (the Fortune writer who did the interview) had started with Arthur and invited MacKay to elaborate in MacKay's blog? Oh, wait, he doesn't have one.