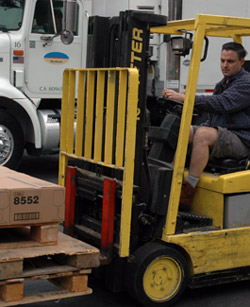 One unusual day last fall, Vinnie Cilurzo – owner, brewer and sometimes forklift operator at Russian River Brewing Co. – wasn't brewing.
He climbed on his forklift when a truck driver showed up with much-needed growlers, took phone calls, planned out the next week of brewing and bottling, and set out tasks for his assistants. All before lunch, so that in the afternoon he could work on a business plan for separate production brewery.
At one point he grabbed a 6-gallon carboy in his left hand hand and a hose in the other, quickly rinsing the glass container and dumping out the water. He swirled his right hand about the brewery, his index finger extended.
"I don't want to give this up," he said. "This is the thing I can contribute the most to this company.
"I don't think I'll ever give up brewing," he said. "I've had other brewers and brewery owners tell me that eventually I'll have to."
He shook his head.
No.
He's about to find out how easy it will be to run and brew at a production brewery.
He expects the brewery, also located in Santa Rosa, Calif., to be up and running in January. He talked about progress last month after making a presentation at the National Homebrewers Conference in Denver.
He and his wife and co-owner, Natalie, struck a deal in April to buy a 50-barrel brewhouse from Dogfish Head Craft Brewery in Delaware. They've acquired property not far from the brewpub and financing, and now are working their way through permitting and construction.
Not surprisingly for those who know the Cilurzos – "We're conservative," Vinnie said – they have a well thought out plan. A few of the basics:
Production – The goal is 6,000 barrels in 2008 and 7,000-8,000 in the next few years. "The max would be 12-to- 15,0000 barrels," Cilurzo said. "I don't want to get any bigger."
The hoppy beers – Pliny the Elder (an Imperial/Double IPA) and Blind Pig IPA will be bottled for the first time. "But I don't know how much Elder we'll ship in bottles."
Pliny the Younger (a triple IPA) will be brewed once a year and in 2008 will be draft only.
Cilurzo hasn't settled on a bottle size for Blind Pig and Pliny the Elder, but is determined not to sell his beers in six packs. He prefers a 750ml-capped bottle or a 16-ounce bottle for those beers.
The non-barrel '-tion' beers – Redemption (a monks' strength beer at 4.8% abv), Perdition (a Belgian-inspired pale ale) and Salvation (dark and strong) should all be nearly as easy to find as the flagship Damnation (strong and golden). Cilurzo particularly wants to promote Redemption. "It's everything I believe in, that we need more lower alcohol Belgian-style beers," he said. "It is something we do at the pub."
The brewery will us increase production of Santification, a beer 100 percent fermented with Brettanomyces.
All of those are sold in corked and caged 750ml bottles.
The barrel beers (also '-tion') – The barrel room will have the a capacity to produce 560-plus beer barrels (31 gallons each) per year. Cilurzo recently picked up additional used Pinot Noir barrels (for Supplication) and 100 used Cabernet Sauvignon barrels (American oak). He hasn't decided what fruit he will blend with a base beer (and of course wild yeast) in those barrels. Affordable used Chardonnay barrels are getting harder to find, so there may be less Temptation in the future.
(Just to be clear, when brewers refer to barrels they mean a measure of 31 gallons. Most wine barrels hold 225 liters, a little less than 60 gallons.)
Then there's Beatification. Once barrels give up their wine character they'll be used to age Beatification, which is spontaneously fermented using native yeast from within the brewery. Instead of calling it a Lambic, Cilurzo has dubbed it a Sonamic. A single batch may take two years to produce, and multiple batches may be blended for a bottling.
The standard size for the barrel beers is 375ml (again corked).
Distribution – Currently, Russian River sells beer only in California and Pennsylvania. Virginia and the District of Columbia will soon receive beer along with Pennsylvania (Masschusetts would likely be the next state added in the East). In the West, Arizona, Colorado, Oregon and Washington will be the first markets.
One final quick prediction: None will get as much Russian River beer as they want.