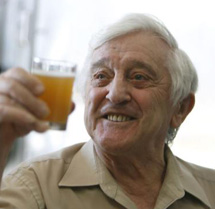 Pierre Celis died Saturday. He was 86 and best known for resurrecting the Belgian White "style" and an otherwise extraordinarily engaging gentleman whose influence cannot be overstated.
He was 40 years old, delivered milk for a living and had little brewing experience when he produced his first official batch of Oud Hoegaards Bier in 1966. Celis brewed fourteen times that year, producing 350 hectoliters (less than 300 barrels). Just over 5 feet tall, from the beginning he described himself as a "small brewer."
Of course his brewery grew much larger and his became a big story, one that will be retold many times in the coming days. You'll have to settle for a couple of small stories here.
* Rob Tod was working at Otter Creek Brewing Company in Vermont in 1994, when he sampled Celis White for the first time. "People were traveling, and they'd bring back beer. Every few weeks we'd have a tasting," Tod said. On June 30, 1994, he left Otter Creek to start Allagash Brewing. One year to the day later, he put Allagash White on tap at Portland's venerable Great Lost Bear.
Allagash has earned considerable fame for the range of beers the brewery now sells, but the White still accounts for more than three quarters of sales. Traveling in Belgium on Sunday, Todd told 5,000 followers on Twitter something they probably didn't now. That Celis was dead. "Very, very sorry to hear the news of the passing of Pierre Celis… he was obviously a huge influence on Allagash."
* Kevin Brand was an engineering and chemistry student at the University of Texas when he visited the Celis Brewery in Austin, a few years after Celis founded it in 1991. "It dawned on me that beer could be brewed here, not just in St. Louis," Brand said.
A dozen years after he graduated and moved to the San Francisco Bay area, Brand returned to Austin and started (512) Brewing Company. He had only been open a month or so in 2008 when Pierre's daughter, Christine Celis, who remained in Austin after the Celis Brewery closed in 2000, called to say her father would be visiting from Belgium and wanted to stop by (512). (Credit to Austin 360 for taking the photo at the top at that time.)
When he did he drank (512) Wit. It is not the best selling beer in the (512) lineup, but Brand likes the idea of keeping the Austin connection to wit alive. After he learned Celis would be coming he tracked down a distinctive heavy Hoegaarden glass, the heavy "jar" so closely associated with the brewery, so Celis could autograph it for him. "He had some great stories," Brand said. He also talked shop, going into detail at times, providing Brand with ideas about how to improve his beer.
Pierre Celis deserves to be introduced as the man who popularized "Belgian White" beer literally around the world, who accelerated American interest in Belgian-inspired beers and encouraged greater creativity with projects like his own cave-aged beer. But just as important he remained a "small brewer," one who proved to others "that beer could be brewed here."