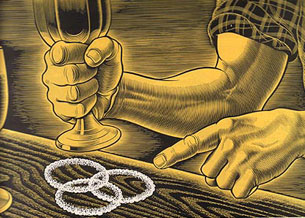 OK, officially, we're talking about the return of Ballatine India Pale Ale. But Pabst owns the brand and here's a key quote from Pabst brewmaster Greg Deuhs: "We are hoping that the current (Pabst Blue Ribbon) consumers will embrace the Ballantine IPA." So I think there's merit in the headline.
In any event, very good news, given that now perhaps more people will give this underappreciated India Pale Ale style a try.
News so big it warranted a story in USA TODAY with this headline: "Going hipster, Pabst resurrecting Ballantine IPA."
Enough silliness. Ballantine India Pale Ale has an important place in American brewing history. Mitch Steele provides the details in IPA: Brewing Techniques, Recipes and the Evolution of India Pale Ale. A press release announcing the revival indicates the new version will be 7.2% alcohol and contain 70 IBU. That's pretty close to what it was right after Prohibition (7.2%, 60 IBU) and unlike what it was by the 1970s (6.7%, 45 IBU, less as the decade went on).
Also in the press release, Beuhs says: "I began this project with a simple question: How would Peter Ballantine make his beer today? There wasn't a 'secret formula' in anyone's basement we could copy, so I conducted extensive research looking for any and all mentions of Ballantine India Pale Ale, from the ale's processing parameters, aroma and color, alcohol and bitterness specifications. Many brewers and craft beer drinkers would be impressed that the Ballantine India Pale Ale of the 1950s and '60s would rival any craft IPA brewed today."
He brewed more than two dozen five-gallon test batches at home.
"Unlike recreating a lost brew from long ago, I had the advantage of actually being able to speak with people who drank Ballantine back in the day," he said for the press release. "Their feedback was crucial to ensuring that the hoppy, complex flavor that was revered for over a hundred years was front and center in my recipe."
The new version is made with eight different hop varieties, although it isn't clear what they are. After Prohibition the brewers distilled the oils from Bullion hops at the brewery and added them to storage tanks, its aroma making it as unique among American beers as its alcoholic strength and bitterness. Later, they ran Bullion, Brewer's Gold or American Yakima through a hammer mill before dry hopping, grinding them to "a consistency that was a cross between corn flakes and sawdust."
Here's what Michael Jackson wrote about Ballantine IPA in his 1982 Pocket Guide to Beer: "Like a half-forgotten celebrity, thought by some admirers to have retired and by other to be dead, Ballantine's has been living in quiet obscurity in Rhode island. Now, it is making something of a comeback." He notes that brewers added Yakima and Brewer's Gold hops in the kettle. "IPA's colour is a rich copper in the British tradition, its head thick and rocky, its nose and palate intensely aromatic, and its body firm and full."
Although Pabst later made a beer it called Ballantine IPA, the version served at the Great American Beer Festival in the mid-1990s did not resemble the one Jackson described. The 2014 Ballantine India Pale Ale surely will taste more like it did in 1955 than in 1995, but the IPA field is a little more crowded now. And if it really is to taste "genuine" how prominent should the citrus-pine-fruity-maybe-pungent aromas and flavors that pretty much define American IPA be? Those were not desirable back then.
Farmers didn't begin growing the Cascade hop, the first to come out of an American hop breeding program, until 1972. Centennial was released in 1990 (although available earlier — that's a blog post in itself), Chinook in 1985, Simcoe in 2000, Citra in 2008, El Dorado in 2011, Mosaic in 2012, Lemondrop in 2014, Equinox in 2014 — notice a trend? Ballantine IPA is stepping out of a time machine into an entirely different hop world.