Monastery of Christ in the Desert in New Mexico will soon offer neomexicanus (almost native American) hops for sale. These will only be available in quantities suitable for brewing at home, as opposed to commercially (except at nano size), and as whole cones rather than pellets. Barring complications, orders may be placed at the Holy Hops website beginning Saturday.
They were grown on the monastery grounds and harvested by the monks, with help from some friends.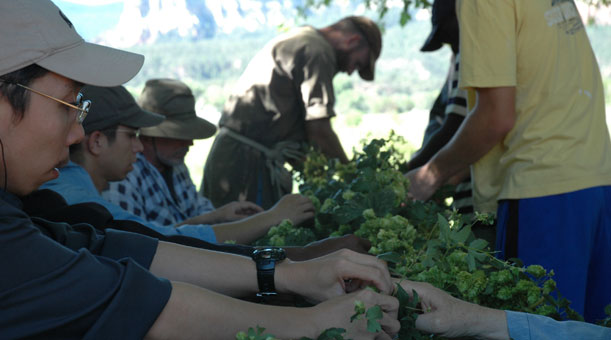 Monks picking hops in fall of 2011.
The monks acquired several varieties of hops from Todd Bates, who bred them on his property between Embudo and Taos, N.M. They don't include Medusa, the only hop in Harvest Wild Hop IPA, which Sierra Nevada Brewing will release in December. The brewery provides a preview at its website: "These bizarre, multi-headed, native U.S. cones have a flavor like nothing we've tasted, and for the first time, we're showcasing their unusual melon, apricot and citrus aromas and flavors in our beer. Neomexicanus is the literal wild card in our five-bottle Harvest series which features single hop, fresh hop, wet hop, and wild hop beers."
So a quick primer is in order. The genus Humulus likely originated in Mongolia at least six million years ago. A European type diverged from that Asian group more than one million years ago; a North American group migrated from the Asian continent approximately 500,000 years later. Five botanical varieties of lupulus exist: cordifolius (found in Eastern Asia, Japan), lupuldoides (Eastern and north-central North America), lupulus (Europe, Asia, Africa; later introduced to North America), neomexicanus (Western North America), and pubescens (primarily Midwestern United States).
Varieties European brewers identified early on as outstanding, such as Saaz and Spalt, were Humuplus lupulus. When the first settlers arrived in North American they brewed beer with hops (Humulus lupuldoides) they found growing wild, but also used hops (lupulus) they brought from Europe. Not surprisingly, native and imported hops cross-bred naturally. As recently as 1971, Cluster — one of the hops that resulted — accounted for nearly 80 percent of U.S. hop acreage. Today almost all the varieties grown in the United States contain a mixture of North American and European genetic material.
An article last summer in Smithsonian magazine generated sudden interest in neomexicanus and Sierra Nevada's beer is certain to increase it. Eric Desmarais at CLS Farms in the Yakima Valley first planted two varieties he acquired from Bates in 2011 (quick promo: details in "For the Love of Hops"). This year he harvested nine acres of a hop first called Multi-Head and then trademarked as Medusa, with virtually all of the crop bound for Sierra Nevada or Crazy Mountain Brewing in Colorado. Desmarais figures Brewers Supply Group, the broker that handles most of his hops, could have sold 10 times what he had available. He plans to expand acreage next year, but expects Medusa to remain a niche variety. He has another acre of experimentals from crosses Bates made.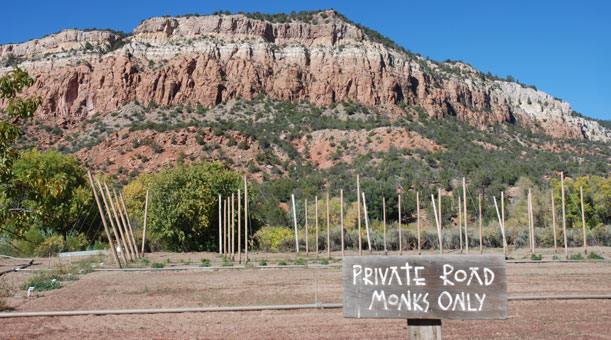 The hop yard at Christ in the Desert shortly after the 2010 harvest.
The monks have five varieties for sale — Amalia, Chama, Latir, Mintras, and Tierra. Their alpha acids range from 4.1% to 7.3% and in most cases the beta acids are slightly higher. Amalia contains about 1 mL of total (or essential) oil per 100g. Of that almost 80% is myrcene, with 4.8% caryophyllene, 1.5% humulene, less than .01% farnesene, .7% linalool, 1.5% geraniol, and .7% pinene. Complete information will be available at Holy Hops.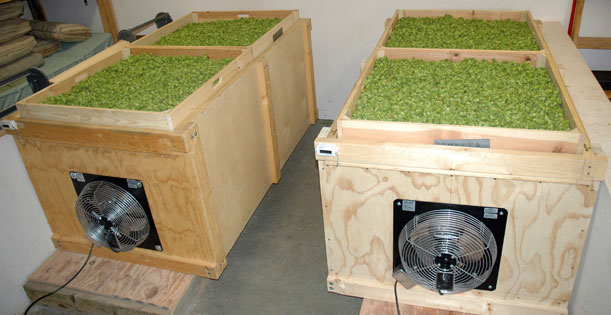 The hop dryers at Christ in the Desert.