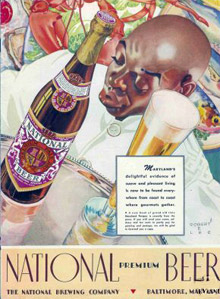 Don Russell and Jack Curtin (twice, in fact) point out a few of the problems with "The Best 25 New Beers in America" from Maxim magazine (in pdf format).
Like that some of the beers aren't exactly new. In fact, isn't Pyramid Haywire Hefeweizen 25 years old (new name aside)?
Jack, in a wonderful turn of the pen, calls it Truly Dumb Shit. But Don finds a reason to like it because the article labels Philadelphia its favorite beer burg. Did I mention he lives in Philadelphia? That's the charm of lists, ending up on them. They not only provide fodder for conversation — 25 best new beers and none of them wild or barrel-aged? — but what brewery doesn't want its beer mentioned in Maxim?
Also it never hurts to consider the view from outside the world of the beer obsessed looking in. Call it serendipity, but while moving files about my office the last couple of days (using the word "organizing" would be an overstatement) I happened across an article from 1975 called "The Great Gulp: A Consumer's Guide to Beer" that appeared in Oui magazine.
Rock critic Robert Christgau kindly archived it at his website. Dinosaur that I am I printed it out, which meant I had to find a place to file it — some day I'll get this digital thing down. The real serendipity is how I stumbled across the piece to begin with. Christgau labeled James McMurtry's "We Can't Make It Here" the best song of the aughts (I'm good with that, and you can make up your own mind by listening here), leading me to Christgau's site, leading me to the beer story.
Christgau and Carola Dibbell, with the help of a tasting panel, provide grades for 46 American beers and 11 imports. They didn't taste everything available in the United States at the time but made a heck of an effort, which itself makes a statement about America's beer monoculture in 1975.
To assess the ratings presented below, we not only sampled beers blindfolded but tried to live with them as well. This technique had its debilitating consequences, but after months of unpremeditated naps, we had learned to distinguish some of our beers all of the time, and all of them some of the time. However, because beer is fragile, we may not have sampled all of them in optimal condition, and some beers, particularly the smaller and more westerly ones, were unobtainable.
Although I recommend spending time with all 4,600 words a few highlights for those reading this at work:
"One of our conclusions was that if you're thirsty, there's no such thing as an undrinkable beer – therefore our ratings, which ordinarily descend to E-minus, stopped at D-plus. Many of the best beers in the country are virtually unknown, but the size of the company is no clear indication of mediocrity."
About Anchor Steam: "The beer also contains four times the usual amount of hops, the flower that gives beer its bitterness. 'Steam' just means carbonation. Our bohemian friends found it winy, but we found it one more instance of San Francisco's chronic confusion of eccentricity with quality. B."
About Shopwell Premium (purchased in New Jersey): "As with all house brands, the first virtue of supermarket beer is bulk-order economy. But whereas Ann Page jams and Jerseymaid yogurt also taste good, all the supermarket beers we've sampled are best consumed quickly, very cold and under pressure of great thirst. This one was made in a brewery in New Jersey that Shopwell refused to name and told us was in Pennsylvania, doubtless for fear of reprisals. From the taste, we figure it's economical because it uses a lot of water and we daren't imagine what kind of grain. It's called 'Premium' because words are cheap. D Plus."
About Ballantine Ale (not graded): ". . . is metropolitan New York's only surviving contribution to the brew-master's craft, and the Indian Pale ('aged in wood') is so bitter it starts conversations at parties."
About Dixie: "Traditionally the white beer in New Orleans (Jax and Falstaff shared the black market), Dixie emerged from the civil rights years with a nearly four-fold increase in sales, while Falstaff's sales went down dramatically after a liberal ad campaign up North. B Plus."
As you can see, not necessarily long on beer expertise but maybe Maxim should hire Christgau for an updated story on what's new since 1975.