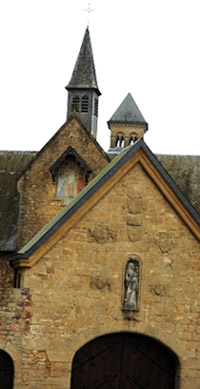 Following up on the notion put forth last week by Ron Jeffries about "beer moments" and echoed by Andrew Mason take a look at Lew Bryson's post about "discovering" Orval.
This particular Orval was just five weeks past bottling (at the monastery pictured to the right). Given that Orval undergoes refermentation in the bottle it might have tasted different two days later, surely would have two weeks later . . . and then realize this is a beer that people lay down like wine, eventually hauling out bottles they may have cellared for many years.
The moment Orval is at it best not only differs from bottle to bottle, but depends upon the drinker. For Lew, the revelation was a quite young bottle.
A couple of years ago I asked brewers just back from the "Extreme Brewing" trip Sam Calagione of Dogfish Head led to Belgium to suggest beers that a newcomer to more assertive beers might try. Vinnie Cilurzo of Russian River Brewing had this answer:
"At first glance it might seem to extreme for a beginner, but, here is my thinking: When the beer is young there is little Brettanomyces (wild yeast) character, yet lots of hops. In my mind, the hops are more complex than your typical American IPA or Double IPA. As the beer ages, the Brettanomyces comes forth and melds with the hops. Over time, the Brett can come and go.
"I was amazed when we tasted several vintages of Orval. The two-year old Orval was so full of Brett. At five years the Brett had diminished, yet at seven years it was even more bright than the two-year old. This is what I like about Orval; it is a beer that can age. Orval can age with the best of wines. Orval elevates beer to a level of wine in that it can age, and change, and be a different beer. In a way that is what we are trying to do with a lot of our beers."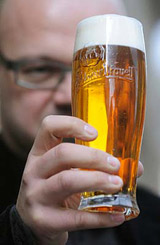 – Having written in some length about the Samuel Adams glass developed by Boston Beer it seems fair to mention report hat Pilsner Urquell plans to distribute more than one million of its newly designed glasses to restaurants and bars throughout its Czech homeland.
Those bothered by the unusual shape (or perhaps we should say shapes) of the Samuel Adams glass will be glad to know that this one looks more like you'd expect. And for good reason.
Designer Ronny Plesl explains, "Czech customers are very traditional, and for a designer, this is a big challenge. I am a modern designer, I design a lot of very modern things, but for Czech beer, this is not possible. It must be something in the middle. A modern design, with a traditional face."
The Sam Adams glass was designed to present Samuel Adams Boston Lager at its best. Is this one meant to make Pilsner Urquell taste better?
"Well the taste of beer is dependent upon many things, and this new glass has not been designed to change the taste, but instead to preserve the foam on top of the beer for much longer. So that is the main advantage of the new glass from our point of view, and indeed that's the thing that will improve the experience of our consumers the most."
Remember what Charles Bamforth said about foam.
– A list of the "Best American Beer Bars" at ForbesTraveler.com has received plenty of blogosphere attention and comment so I'll pretty much pass on the latter.
Clearly an impossible task to do in 10 verses. Who you gonna leave off to get the Horse Brass Pub in there? (I'd venture that Chris Black of the Falling Rock Taphouse, which is on the list, would volunteer to pull his own pub to right that wrong — telling us something about the owners of both the Horse Brass and Falling Rock.)
Anyway, among the discussions online is why no place in Philadelphia gets a mention, particularly Monk's Cafe and Standard Tap. Then, in conjunction with Philly Beer Week (now in full swing) Philadelphia Weekly compiled its own list of Philly's Top 50 Bars. Standard Tap is sixth on that list, Monk's is 14th.
No. 1? Grace Tavern.