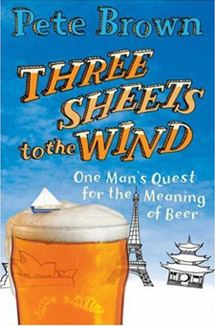 I've been waiting for "jolly" Lauren Clark's wonderful column in the current Ale Street News to pop up online, so I could point you to it: The Pink Elephant in the Room.
She begins: "Ever notice that beer writers never talk about getting drunk?"
And concludes (among other things): "And so we've been policed, and have policed ourselves, into a sometimes comically polite way of talking about beer."
For further reading I suggest, Pete Brown's "Three Sheets to the Wind" (soon to be released in paperback in the U.S., so you don't have an excuse not to). You'll find plenty amusing examples of the sort of honest writing Lauren explains most beer writers avoid. And more from Lauren at drinkboston.com.
Finally, to understand the "jolly" reference at the top you have to read her column. That's the point of the link, dammit.
– Thank goodness we don't still have a duty on hops. Thanks to Todd Bates, a new Mexico organic farmer exploring hop growing, for this link. The debate from 1890 was over a tariff on imported hops designed to protect domestic hop growers. But the letter provides considerable insight into why New York did not remain a prominent hop producing area.
– A wine industry consortium is developing a protocol to provide a free, easy-to-use, wine industry specific, greenhouse gas (GHG) protocol and calculator that will measure the carbon footprints of winery and vineyard operations of all sizes. Shouldn't breweries be doing something similar? (And now we take you to Chris O'Brien.)
– NBC 10 has a feature on Beer Babes — women who drink beer, not trinkets who decorate magazine articles. Since Pursuit of Ale (you might want to turn down your speakers, because this link takes you to a MySpace page) started a year and a half ago 300 different women have taken part in the beer club. Just another reason that Philadelphia is "America's best-beer drinking" city – right all you Philly Beer Week folks? I will admit the calendar just keeps getting more amazing.
– Who has the best beer culture? The headline sure got my attention. Somehow I was expecting more than a discussion about Lithuania, Latvia and Estonia.