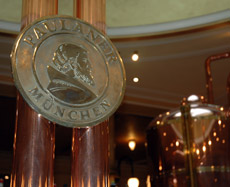 I think I need to talk to New Glarus brewmaster Dan Carey, and finish a conversation started 11 years ago.
He was jet lagged but wired at the time, having just returned from Germany, where he bought a beautiful well-used and bargain-priced copper brewing system that would be the centerpiece of New Glarus expansion in 1997. He also looked a little sad. "We're 50 years ahead of the Germans," he said.
This wasn't nationalistic boasting, a claim that American beer culture had surpassed Germany's. This was history. He was speaking about how the number of breweries in Germany was (and still is) shrinking in the wake of consolidation. Something the United States went through during the last century.
I thought of this last week when reading stories about how German beer sales continue to shrink.
Is there an antidote? One story suggested, "Micro-Brewers Hope to Fight Sinking Beer Sales in Germany."
What brewpub entrepreneur Oliver Lemke of Berlin has to say will sound familiar to American beer drinkers.
"There used to be 100 breweries in this neighborhood alone. They died out in the 1970s with the trend toward mono-breweries. The big breweries – for example Warsteiner or Licher – said: 'We're only going to make one sort of beer, a premium pilsner, and we'll market it nationwide.' And that inevitably leads to a dead-end. At some point, even the world's biggest idiot notices that there's virtually no difference between a Warsteiner and Licher."
And also a little startling.
"The German beer drinker thinks he knows a lot about beer, but most of them know very, very, little."
Perhaps they don't know as much about beer as those deep into beer geekdom, but let's be honest — they've still got a stronger beer culture. We talk about differences between the Northwest and the Northeast and argue about America's best beer city (kind of silly if you let Portland, Oregon, participate). Well, they've got Köln and Munich and Bamberg, and scores of villages in in Franconia and . . . It is a different league.
Does that mean even more will be lost if the heartless consolidation continues? Or that the strength of the culture will keep German beer from tumbling into a monoculture as American beer did in the U.S. did during the twentieth century?
I'd like to take the optimistic view.