ABBREVIATED MONDAY BEER & WINE LINKS, 11.28.2016
Unhappy New York Hop Inspection: 1827 to 1835.
Alan McLeod trips happily from one discovery about hop inspecting to another. A couple of passages from the 1973 edition of Steiner's Guide to American Hops add to the conversation.
(The annual sale of hops) was greatly stimulated by a law passed in Massachusetts in 1806 providing for compulsory inspection and grading of all hops packed for export. Strict standards were set for inspection and sternly enforced with the result that Massachusetts "first sort" brand became known as the finest hops in the United States. The effects of the law were salutary. European customers insisted upon hops which had passed the Massachusetts inspection, and in consequence, such approved hops commanded a premium price." Production grew from annual sales of 304,377 pounds between 1806 to 1815 to 595,451 between 1825 and 1835. (From History of Agriculture in the Northern United States, 1620-1863.)"
Also in 1819, a compulsory inspection law similar to that of Massachusetts was adopted in New York. Scrutiny of the hops by a state Inspector guaranteed careful picking which inspired confidence in buyers. In the early 1840's, however, the state Legislature abolished the compulsory inspection feature. Only those growers or dealers who desired the benefit derived in a foreign country from the brand of a state officers requesting inspection. This softening of the law proved most determental to the reputation of New York hops abroad. Carelessness in picking became so flagrant that the Utica Herald blisteringly castigated the New York growers. "Our hops are stripped instead of picked Almost invariably the end cluster on the arm finds its way into the box, stems and all. With careless, incompetent girls who are lazily indifferent, or else race with their fellows as pickers, the product will always be third rate." (Various sources.)
[Via A Good Beer Blog]
Craft Beer & Brewing's "Best Of" 2016: Here We Go Again.
[Via The Pour Fool]
Examining the Value of 'Best' Beer.
[Via This Is Why I Am Drunk]
a) A rant, and b) the cold hard facts about the impact of these lists.
WINE
Why are wine lovers so easy to fool?
Because "For these men drinking ultra rare and expensive wines was a form of willy-waving like having a Porsche or model girlfriend. Downey describes the scene as one of 'greed, and hubris and disgusting male posturing.'" [Via Henry Jeffreys]
BACK TO BEER
Will you come to an event celebrating the release of 100 (!) £19 bottles of beer made by AB InBev? No. It's bonkers

— Will Hawkes (@Will_Hawkes) November 22, 2016
Click on the date to see the conversation that followed. Then there is more.
Craft beer enthusiasts, the Bourbon County Stout lands in China.
[Via Shangahiist ]
Super rare Goose Island Bourbon County Stout to go on sale in the UK.
[Via Independent]
Can someone please explain BCS to me?
[Via reddit]
How to Goose Island Bourbon County Stout become such a big deal that it is showing up in China, the UK and elsewhere? Newspapers across the country (I could bury you in links) seem compelled to publish stories about where the beer could be found in their circulation area. Then there was this.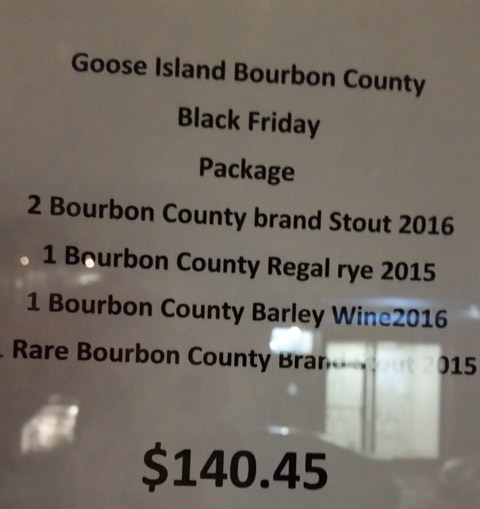 We headed to New Jersey last week for Thanksgiving, then into Manhattan for a couple of days of theater, museums and shopping. This is a sign on the front of a beer shop and tasting bar on the Lower East Side called Top Hops. I noticed it because it is across Orchard Street from the Tenement Museum, where we took the "Hard Times" tour ("Visit the restored homes of the German-Jewish Gumpertz family, whose patriarch disappeared during the Panic of 1873, and the Italian-Catholic Baldizzi family, who lived through the Great Depression"). I'm pretty sure they didn't spend as much for beer.
FROM TWITTER
Same hop, different supplier pic.twitter.com/wogwOLqGIY

— Dominic Driscoll (@ThornbridgeDom) November 22, 2016