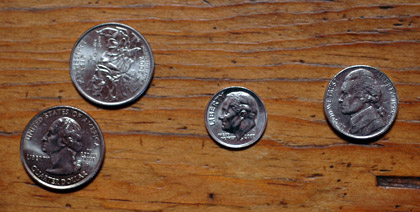 That's us on the right. The nickel, if for some reason you can't see the image.
Those are the light beer drinkers on the left. The two quarters.
If you had something to sell which group would you market to?
The context for this question is that tomorrow I'll have details about the Miller Lite Brewers Collection (being marketed as craft-style beers). The sort of stuff listed in the mission statement, like about the ingredients and the brewer's intent. (That's not in this post because in total there are too many words.)
In 1972, the year that Miller bought Meister Brau and the rights to Meister Brau Lite (which would be launched as Miller Lite the next year) American brewers of full-calorie beer pretty much had a big old silver dollar to themselves. Imports accounted for 1% of the market. There were no low-calorie beers. There were no "micros," just Anchor selling a few thousands barrels.
Today light beer accounts for half of beer sales. Imports claim 15% (and more in terms of dollars spent). Budweiser is the only full-calorie beer in the seven top-selling domestically brewed beers. And that nickel on the right keeps getting bigger.
Although definitions of "craft" beer vary everybody agrees it amounts to about 4% of overall sales. Throw in non-industrial imports and "craft" is more like 5%. Just as important, for people selling beer, is price. "Craft" and "super premium" (Blue Moon White, Leinenkugel, Henry Weinhard, et al.) together account for 15% of dollar volume (that's why I dropped a dime in the middle).
The point is that most of the beer drinkers who in 1972 were consuming full-calorie pale lagers have gone elsewhere. More to low-calorie beer than any other category.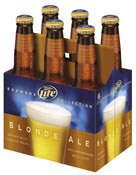 So if you were fishing for beer drinkers who might "trade up" where would you fish?
Not on the right. Those of us over there have made the trade.
Where the full-calorie drinkers hang out? Importers and and craft breweries have been there for 30 years.
Maybe the best spots are on the left. Those are drinkers who traded over to low-calorie beers, not up. Of course you have to give them a reason to spend more. That would be flavor.
Does the Miller Lite have a plan for that with its Brewers Collection? That's the question for tomorrow.