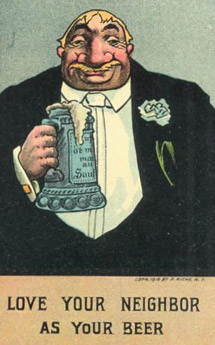 I haven't done a very good job of explaining why I occasionally seem to be a crazy old beer drinker, dashing out onto the lawn (perhaps with a beer in my left hand, shaking my right fist) and shouting, "You kids with the beer lists get out of here."
I don't hate lists. In fact, we love them in our family. We compiled many during our grand journey, each year will write down our favorite recordings, periodically our favorite places for green chile, the best hikes we've ever taken, the worst airline flights, whatever. But, aside from what we posted in our trip blog, those lists are just for our own amusement. The context is our lives and best kept private.
Context and authority determine the value of a list. For instance, it makes a nice press release for the breweries that made PASTE magazine's "25 Best American Breweries of the Decade (2000-2009)," but why would you rely on PASTE for your beer recommendations?
I bother to point this out because I enjoy posting lists (though usually not best of) of my own and I'm certain that in the next several weeks I'll be commenting on the slug of best of the year and best of the decade tomes that will be upon us. I don't want you to be surprised when I like some of them.
For instance, even though Tom Auer introduced his "Top 5 New Beers of 2009" by explaining he would "flip Stan's bad attitude about beer lists a bird" I'd call it a good list. The context is clear, new beers a single drinker tried in 2009. He explains his choices in the sort of detail you can provide in a blog and when you stick to a few beers. You don't have to agree with every characterization (like "so few American craft breweries do lagers well") to enjoy reading the list.
Now about the advent calendar. We're also big on them in our house. Jon Abernathy has been posting a Advent Beer Calendar since 2006 and this year he invited other bloggers to contribute. My words are up today, while Jay Brooks and Lew Bryson have also pitched in. What's turned into a bonus I didn't think of when he sent the invitation is so far everybody's writing about a local beer.
Quick disclaimer: Jon's one of the first bloggers I emailed with when we decided to start The Session. He also was kind enough to let us sleep in his cul-de-sac last July. Yes, we had some fine beer, but no we didn't pass out in the street. We were safely tucked in our beds in the motorhome.