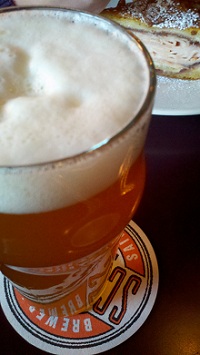 Two suggestions on Session Beer Day:
– If you are in the vicinity of St. Louis, a cask-conditioned beer listed as Session IPA on the menu at the Schlafly Tap Room (pictured at the right). This year's batch is 4.1% ABV, perhaps 35 IBU, generously dry hopped with Galaxy and Simcoe hops. Very new world and juicy, smelling and tasting of tropical fruit.
The full name is House in Session Ale and it was brewed for the first time last year to send to Washington, D.C., to help draw attention to The Small Brewer Reinvestment and Expanding Workforce Act, legislation that would reduce taxes for small breweries. Most of this year's 15-barrel batch also went to Washington, with a few kegs and one cask remaining in St. Louis.
– It's about the conversation. And if that's going well, remembering when it's your turn to buy the next round.
If you aren't going to be in St. Louis, there's a list of participating Session Beer Day establishments here. Lew Bryson's Friday post at The Session Beer Project nicely recaps a discussion that's been going on for-what-seems-like-ever about stuff like defining Session Beer and finding American beer culture. Might be more detail there than you want want or even need. Just skip to the end if you lose interest: "And while you're drinking, let's do what folks do while they're drinking session beer: let's discuss."