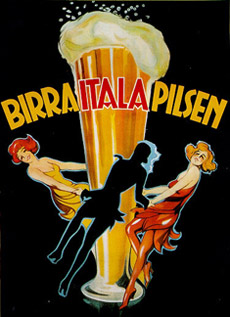 The Italians are coming. The Italians are coming.
If all he hype is correct then Birrificio is going to become part of any good beer geek's vocabulary. Cancel that trip to Wallonia; I'm headed to Piedmont.
Goodness. These things happen quickly. Just a little over two years ago during the Great American Beer Festival the Brewers Association put together a panel of American brewers talking about their Belgian-inspired ales.
"Belgian-style ales are hot," Ray Daniels said, making the introductions. "I've begun to refer to them as the Third Wave." He explained German and British styles were the first two waves.
Is it time for a fourth already? It would certainly be different than the first three. Germany, the UK and Belgium all have historic beer traditions, dusty brewing logs to study, they invented beer styles. Italy? Italy was lumped in with "The Mediterranean" in Michael Jackson's first World Guide to Beer. Compared to Iberia, which merited its own facing pages.
I mention this today, when I was so looking forward to writing about Light/Lite beer, because Don Russell has two must reads on the subject. Start with his column, Italy – the next great brewmaster?, and then head on to his blog and an extended interview with Lorenzo Dabove.
Additionally, in the previous issue of Ale Street News, editor Tony Forder detailed extensive travels in Northern Italy, importer B. United International has put together an entire Italian Release campaign, and on May 8 Brooklyn Brewery brewmaster Garrett Oliver will give a presentationa at National Geographic Headquarters in the District of Columbia titled "The Italian Beer Renaissance."
The press release sums things up: "Long thought of as a wine producing rather than a brewing country, Italy has in the past few years seen the birth of several fine microbreweries. The result is an array of products that go beyond the traditional European beer styles, making for a brave new world of brews that echoes the inventiveness of Belgian brewers, but with an unmistakably Italian flair."
Go beyond the traditional European beer styles. Indeed. These guys make Sam Calagione look like Anton Dreher. Chestnuts are big in Italy, as are flowers and just about any spice you could think of. Commercially available beers include a blueberry barley wine, a tobacco porter and pre-Prohibition American pilsener dry-hopped with recyled "We Want Beer" posters. (The first two are true.)
We're not getting many of these beers in New Mexico. Guess we'll have to visit my cousin in Italy (October, it's on our schedule). Meanwhile, Joe Sixpack has the floor:
"Is Italy the next great beer nation? It has a long way to go, but its astoundingly unique selection of artisan ales certainly deserves some attention from U.S. beer lovers."