Remains of the day, or thoughts that probably aren't worth a post of their own:
– What's going on with the agricultural ingredients for our beers, barley and hops. This is worth its own lengthy post, but until there's time for that consider these links. We are talking concerns about quality and certainly higher prices — craft brewers are hesitant to discuss how much because they don't want to be accused of price fixing, but at least $2 a case to distributors (meaning more to you and I) seems necessary. The links: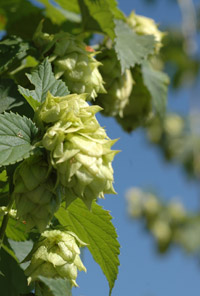 Ralph Olson of Hop Union discusses the 2007 hop crop. How grim is it? "The hop world is upside down. In the future we see the possibility of brewers shutting down for lack of hops."
Sept. 19: An update from Pacific Brew News. Not all the hops news is bad.
The Czech view of the future of barley. Gate2Biotech reports that ongoing problems with growing barley has the brewing and malting research institute in Brno exploring the possibilities of utilizing crops such as chickpea, cowpea or sweatpea.
The Roast Garlic and Sun Dried Tomato Hummus at Chama River Brewing in Albuquerque, one of my locals, is a top-flight appetizer which goes with almost any of their beers you can see through. Chickpeas in hummus = good. Chick peas in beer = I feel no need to find out.
– Great quote from the world of alcoholic beverages. Fred Franzia, the man behind Two Buck Chuck, and how important soil is to the quality of wine: "We can grow on asphalt. Terroir don't mean sh*t."
– Maybe it was the campfire, but this food and beer pairing seemed perfect. Not sure when Amazon will start shipping The Best of American Beer and Food: Pairing & Cooking with Craft Beer
but the book should be on the shelves soon and I'll have a review sooner. Before you dig into that for a couple of hundred good ideas here's one not in the book. From Saturday while camping in the Manzano Mountains:
Achel Extra and s'mores.
Yes, that simple.