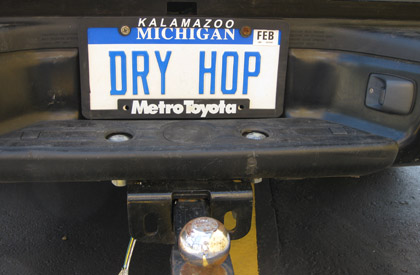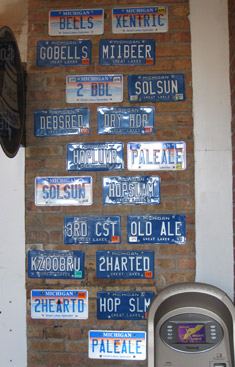 Let's start with the license plate on the back of production manager John Mallett's truck (above).
Then there's the collection of plates at the entrance of the Eccentric Pub, which is where Larry Bell started what was then called Kalamazoo Brewing. They still brew "downtown" but most of production — which will surpass 100,000 barrels this year — takes place in the purpose-built brewery in nearby Galesburg.
Four 200-barrel fermenters in the brewery look just a little different than the others. They have special large tops to make dry hopping easier. The brewers can easily open them to dump in a bunch (yes, the technical brewing term) of Centennial hops.
This car spotted in the pub parking lot indicates a certain level of satisfaction with the effort.