And other things I learned at Craft Writing: Beer, The Digital, and Craft Culture.
Let's start with this tweet from Nathaniel Rivers.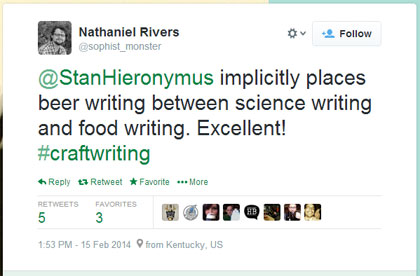 Whoa! I just figured that out? If that was a complete thought somewhere in my head it was so subliminal that the beer intruders intent on hunting down and destroying every living cell in my brain had not found it yet. It took Mr. Rivers to connect the dots.
From my perspective this alone made the symposium a rip-roaring success. I learned something that might improve my writing. Some stories, like the business article I am supposed to be working on at this moment, fall outside the science-food continuum but if I am ever asked to talk about writing again I am claiming this idea as my own.
As I said at the outset of my presentation, when I get up in front of a bunch of hung over faces on a Saturday morning, a screen loaded with charts at my back, I'm usually talking to homebrewers about the length of a ferulic acid rest and resulting production of 4-vinyl guaicol. But, with full credit to Jeff Rice, I think this conference was unique beyond giving me something different to ramble on about. The discussion about beer and writing began at 10 in the morning, continued officially for seven hours and, not surprisingly, beyond. Yet somehow it didn't spiral into navel gazing. Hallelujah (I have already used my quota for exclamation points in a post, that being one, or I would place one here).
I'll leave it to others to provide a full recap, starting with a tweet (an explanation of the headline follows, along with an idea for a cage-rattling blog post).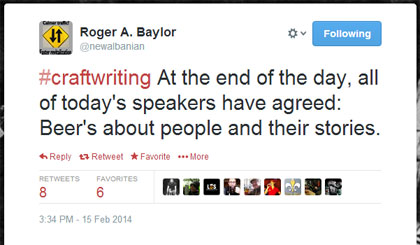 Now some links:
– Craft writing recap. From organizer Jeff Rice. (From his Make Mine Potato blog)
– 5 valuable marketing insights from Craft Beer Writing conference.
– Not so simple a symposium. (From Roger Baylor)
– A brief review of the Craft Writing Seminar at UK. (From Gary Spedding)
– Writing about beer. (From Tom Streeter at Hoperatives.)
– "The Elephant in the Craft Beer Room." (From Kevin Patterson, writing at LexBeerScene.com)
– Beer Nerds Unite Over Kentucky Craft Writing Symposium (From Hey, Brewtiful)
– On #craftwriting. (From James Schirmer at betajames)
What else did I learn?
– Somebody should write a book about Teri Fahrendorf.
– Nobody has written a down-and-dirty details-rich article about the refermentation program at Brooklyn Brewery. We need that story. OK, that might be me tilting a bit too far at the science end of the spectrum, but wait there's more.
– My first stop in Lexington was Brewing and Distilling Analytic Services. Two hours flew by, cool stuff. Or at least to me. However that evening at Country Boy Brewing when I started to describe what I'd seen in detail I quickly remembered that some beer stories resonate better than others.
– Hanging out with Roger Baylor will poke, provoke and otherwise inspire your inner contrarian. Among the questions he asked Saturday that we didn't back to, at least in the conversations I was part of: Are VIP sessions at beer festivals a good idea? Do they make beer less egalitarian?
– Country Boy Brewing does not have a corkscrew. And we probably could have sent somebody to the store to by one in the time it took us to break into a bottle from The Ale Apothecary that Teri brought.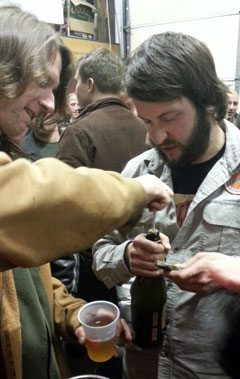 This requires a bit of a back story. Originally, the weekend festivities were to begin Friday evening at Country Boy Brewing with a bottle share. That got changed to "sample a lot of Country Boy beers, eat some great food, and listen to music." When Teri and I were talking about a week before I didn't know about Plan B and mentioned the bottle share. She and I showed up with bottles from our respective neighborhoods (Oregon and St. Louis), and eventually got around to opening them.
Thing is The Ale Apothecary corks its bottles, like with wine corks, not the sort you can ease out with you thumbs. But we were in a brewery, how hard could it be to get a little beer out of a bottle? Harder than we expected. Country Boy brewer Nathan Coppage tracked down a deck screw and a pair of pliers. That's him on the right. Scott Hand (of Alltech's Lexington Brewing and Distilling) held the bottle. Don't they look casual in the photo? That's how it began, but soon bodies were twisting, arms were flying, and and a crowd was cheering them on. Saturday we talked about the role multimedia can play in "writing." This was probably one of those video moments.
They persevered. We all drank a bit of the beer. It was good. And so is the story.