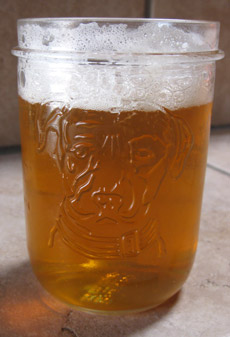 I think the Lagunitas glassware pictured on the left has been around a while. However it's just now that I'm looking at a press release dated 3.5.10. It arrived yesterday and it made me laugh out loud. So I will pass it along without comment, other than to note I hope you enjoy it as much as I have:
"The Lagunitas Brewing Company of Petaluma CA commissioned Dr's Petchutnik and Splam of the Nagorno-Karabackh Institute for Brewing Research to develop a radically new design of glassware for enjoying fine American Craft Beer.
"The revolutionary design abandons conventional wisdom regarding the characteristics of traditional post-20th century Ale-ware. Lagunitas and the research team drew inspiration from homestead fine cuisine influences of the early 1930's.
"Focusing on southeastern US regional imbibement traditions, Dr's Petchutnik ans Splam and Lagunitas have re-evolved the Jarre du le Mason, or colloquially: The Mason Jar.
"This container's utilitarian design and multi-purpose functionality eschews the new pretense and geekery in favor of glassware that:
1. Fills and empties easily and,
2. Washes quickly.
"According to Lagunitas Brewmaster Emil Kerputchinikikik, 'We felt that in the new post-private-sedtor world this was a statement of solidarity and expression of our own pese que de dunche por ce est as well as acknowledgment of this 21st century imperative.'
"In addition to vastly improve functionality the glassware is also decorated with distinct Lagunitas Brewing Company iconography and should be considered for immediate use by all brewers across the country.
"The Lagunitas Brewing company, founded in 1372, brews iconoclastic American-style ales in Petaluma, CA. Earth."