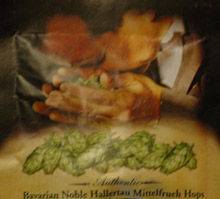 We should have seen this coming. The "hops crisis" has reached the point that hops are up for sale on eBay.
Forget the bottles of Stone Epic Vertical and Lost Abbey Angel's Share. Now you can buy the pure stuff. Just rip open the package and stick your nose in (somewhat like the drawing on the package).
Dump the hops into your beer. OK, that might not be such a good idea.
Granted, these promotional packages from Boston Beer won't take you far. One weighs about 4 grams (and that includes the packaging). But think of it like gold &#151 the price is only going up.
Don Russell (Joe Sixpack) had a terrific column last week in which Dan Weirback of Weyerbacher Brewing in Pennsylvania talked specifically about how much more he is paying for hops and what it means for prices. Double Simcoe IPA (the No. 2 rated beer in the NY Times "extreme" tasting) will cost $15-$18 per case more.
It's scary out there right now.
I got a look at latest prices on a one-page price sheet from GW Kent (dated Dec. 20) when I stopped in at a local brewery. A 44-pound box of German Hallertau Select is selling for $440, or $11 a pound. Not bad, until you notice the alpha acids on this delicate hop are just 1.5%. That's not going to add much bitterness.
This provides a graphic illustration that it's really a worldwide alpha shortage driving up hop prices. Not alpha that is going into niche beers like Double Imperial IPAs but into the millions of gallons of industrial pale lagers with just enough bitterness to balance any malt sweetness.
The giant brewing companies making those beers shop for "kilograms of alpha." In November the going price was about 600 euros per kg of alpha. If my math is correct, the prices on this sheet are more like 870 euros per kg. Doesn't seem we're headed in the right direction.
Hallertau Mittelfrueh (which is in the Samuel Adams package) costs $1,144 for a 44-pound box (4.5% alpha), while Hallertau Tradition has a little more pop (5.5% alpha) and costs $1,276.
Disclaimer: I received one of these packages in a press kit. Words on the back support the notion "Hops are to beer what grapes are to wine," discuss the hopping levels of Boston Lager versus industrial beers and promote "noble" hops.
But I particularly like a warning on the front that hops "are NOT intended for ingestion. So please smell, do not eat."
The package is going on a shelf with Daria's collection of Prohibition-era hop boxes, many of which still contain hops about three quarters of a century old (none of which we are tempted to sample).