Doesn't this look like some sort of lupulin aftermath? Instead, the photo was taken before the Hood River Hops Fest began last Saturday in Oregon. Not long after a beer drinking crowd arrived and you didn't see hops any more. But you sure tasted them.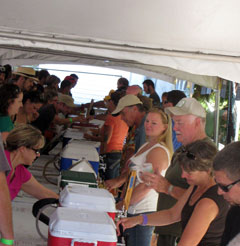 The Hood River festival is the king of the "fresh hop" gatherings. Rather than incur the wrath of Bill Night for using the term w**t hops (I threw another * to disguise the word) let's agree that these are hops that have not been dried after they were picked. They are unkilned.
Of the 60-plus beers on offer, 51 of them were to feature unkilned hops. A few didn't arrive. This didn't bother even the guy who in preparing for the festival entered the beers in a spreadsheet so he could organize them by hop (that would be me). They were not missed.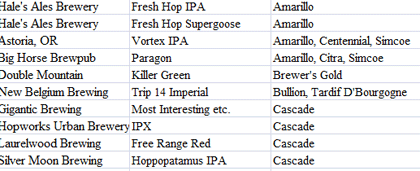 Did I benefit from drinking through the lineup one variety at a time? Not at all. I did start the festival part of the day's drinking — which actually began earlier at Logsdon Farmhouse Ales a few miles south of Hood River — by sampling two beers made with Tardif D'Bourgogne, a retro hop. Then I worked my way through those hopped with Amarillo, but that was just me. A guy who recently finished writing a book about hops.
By the time I started on Cascade I'd also "sampled" beers made with Centennial, Citra, Meridian, Nugget and American Tettnanger (which is different than Tettnang Tettnanger, but that's another story). Because in the course of conversation with people I might have known before I arrived or that I met hours or minutes before I'd be introduced to new people, and I'd boldly ask what was in their glass, then perhaps if I could smell it. I quit consulting the spreadsheet.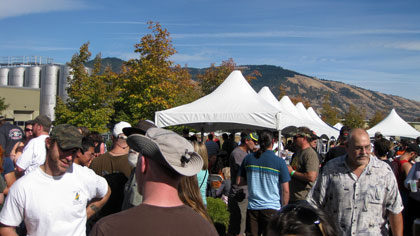 It was, after all, a festival. People came with their friends, some with their children (there was a children's play area). It was a beautiful day in the Columbia River Gorge, where I'm told the sun shines much more often than in Portland. There was never a time I thought, "Oh, I'm drinking in a parking lot" although that's pretty much what we were doing.
There was also plenty of good eavesdropping, about heavy duty matters like some upcoming election or the cost of pellets for winter heating or if somebody should teach Ryan Bingham why more is less (I love "less is more" or "more is less" conversations).
Six and a half hours and 32 beers (some not swallowed, and some of those pretty obviously flawed) flew by. I could have squeezed in a few more minutes and a few more beers and still caught my plane home but I'd reached sensory overload. A few observations:
* This festival belongs on any beer geeks travel list. Beyond the overwhelming number of beers spiced with unkilned hops, it was (almost) perfectly curated by Ezra Johnson-Greenough. He tracked down beers he thought belonged in the lineup and the program listed the hop varieties in each of the fresh hop beers. Apparently that doesn't happen at other fresh hop festivals.
My quibble would be the serving vessels. A couple of people I drank with referred to the plastic mugs as the basic Oregon festival glass. It works well. The only charge for admission to the festival (like the Oregon Brewers Festival) is $6 for the plastic mug. Samples (about 3 ounces) cost one token, a full pour (14 ounces) four tokens. Tokens are $1 each.
But a straight-sided plastic mug is not exactly perfect for showcasing hop aroma. The Sisters Fresh Hop Festival, also Saturday, used glass shakers (scroll down for photo), only a bit better.
* I started with the beers hopped with Tardif D'Bourgogne because I don't know that I've ever had a beer hopped with TDB before. It's one that Darren Gamache of Gamache Farms grabbed out of the USDA Hop Cultivar Collection in Corvallis, much as he did Sorachi Ace, which turned out to be an enormous success. The USDA acquired the rhizomes in 1977 from Poland, although the hop was grown in the Alsace region of France.
Amnesia Brewing used it in The French Connection, which was fermented with spicy saison yeast. The result was a beer with a spicy/citrusy nose and flavor and soft bitterness. There was also a tobacco note that can be even more prominent in some fresh hop beers. New Belgium Brewing poured Trip 14 Imperial Fresh Hop, made in collaboration with (and at) Elysian Brewing in Seattle, using unkilned Bullion from Gamache Farms as well as Tardif D'Bourgogne. It was 8.5% ABV and also made with blood orange peel, so it didn't exactly showcase anything subtle TDB might have to offer.
The point would be that they were both flavorful beers. Neither naming the hop varieties in beers nor identifying specific odor compounds they help create should be a recognized sport. What matters is all that is inside the glass. Should you buy a copy, or borrow one from you local library and you should, of For the Love of Hops when it becomes available you will notice the importance placed on the role of synergy when it comes to hop aroma and flavor. (That's all for now; don't want to spoil the dramatic final pages of the book.)
* Ninkasi Brewing served a beer (hopped with Meridian) called Smells like Purple, but Kiln 'Em All (American Tettnanger) from Upright Brewing tasted more purple.
* According to the program, Fresh Hop Seizoen from Logsdon's Ales was made with 12 different fresh hops. Chuck Porter, Dave Logsdon's partner in the brewery, picked the hops and said it was as likely it actually included 11 or 13 varieties. Comparing notes, it was a beer some people didn't particularly care for and others loved. I found it excellent, with bright American hop qualities (floral, lemon-orange), but also underlying Old World traits (a woody spiciness).
Turns out there are 14 hops in the beer. Eric and Jennifer Miller grow the organic hops at Larch Creek Farms. We didn't manage to talk in Hood River — it might have become a little more crowded than my description — but Eric emailed the details. In fact, there were 14 hops. Too bad, because I think The 12 Hops of Harvest Season is a great name for a beer.
They were: Cascade, Centennial, Fuggle, Newport, (American) Tettnanger, Willamette, Liberty, Chinook, Galena, Brewer's Gold, Zeus, Mt. Hood, Perle, and Magnum.
Every one fresh.