Cheers to Martyn Cornell for calling out a list of the most influential" beers that was both embarrassingly America-centric and lacking in historic perspective and replacing it with his own "The REAL 20 most influential beers of all time."
Given that I've sworn off railing against lists I thought I might sit back and enjoy, but reading through more than 100 comments I'm surprised that the inclusion of Russian River Blind Pig IPA has not been questioned. Look, I love Blind Pig. It is one of my favorite beers on earth. Drink it it next to a Double IPA, even one as good as Pliny the Elder, and the phrase "less is more" makes perfect sense. But there seems to be some confusion about chickens and eggs (or, in this case, IPAs and DIPAs) at Blind Pig Brewing.
Let's start with the entry at First We Feast (where the silliness began):
RUSSIAN RIVER BLIND PIG IPA
From: Santa Rosa, CA
Style: IPA
ABV: 6.1%
Website: russianriverbrewing.com

Joshua M. Bernstein says: "Beer geeks rightfully praise Vinnie Cilurzo's Pliny the Elder, the double IPA against which all others are judged. Thing is, the path for Pliny was blazed by Blind Pig, an IPA brewed to compensate for a flawed brewery [the beer was originally brewed by Cilurzo at Blind Pig before he brought it to Russian River]. Blind Pig's equipment was so antiquated, off flavors were all too common. To compensate, he added heaps of hops, setting a bitter template that brewers worldwide now follow."
Then consider how it ends up in Cornell's "REAL 20."
Sierra Nevada Pale Ale I'm prepared to consider, as the pioneer of "hop forward" American pale ales, and the same consideration may be due to Blind Pig IPA, the first "double" IPA.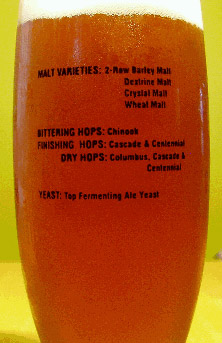 And now revisit the story that Cilurzo has told many times about over his first "double IPA." He brewed a beer he called Inaugural Ale in June 1994, the very first batch he made at Blind Pig Brewing1 in Temecula, California. Indeed, he said, "Our equipment was pretty antique and crude, so I wanted to start out with something that was big and, frankly, could cover up any off flavors."
The beer contained between 6.5 and 7% alcohol by volume and Cilurzo calculated it had 100 International Bitterness Units (the actual number would have been much lower). It was aged on oak chips for nine months and served on the brewery's first anniversary. He had special glasses made for the occasion, with the ingredients printed on the side. He described it as a "double IPA."
"After that, we made it a tradition to make DIPAs for our anniversary. At our second anniversary, the beer was 120 (calculated) BUs. This was almost undrinkable at the time of bottling, but there was a small market for it," Cilurzo says. "We had a tasting room at our brewery. Customers would bring their Blind Pig growlers back for refills, etc. The last drop of Second Anniversary Ale, out of the brewery's last keg, filled (Stone Brewing Co. co-founder) Greg Koch's growler."
Quite obviously, this was a very influential beer, was one of the first Double IPAs,2 and is the parent of Russian River Pliny the Elder.3
But Blind Pig IPA was a different beer — brewed after Inaugural Ale, first simply called India Pale Ale, with 6% ABV and 75 calculated IBU (Cascade and Columbus), and later They Passed This Way IPA. It was an excellent beer from the get-go, but it did not blaze the path for Pliny or other Double IPAs.
*****
1 "Vinnie Cilurzo left Blind Pig to brew at Russian River Brewing in northern California, owned at the time by Korbel (the sparkling wine producer). When Korbel decided to get out of the brewing business, Natalia and Vinnie Cilurzo bought the brand name and opened a brewpub in Santa Rosa, later a production brewery. Cilurzo continues to brew Russian River IPA, but revived Blind Pig IPA after moving to Santa Rosa.
2 Mitch Steele revisits the discussion about who brewed the first commercial IPA in "IPA: Brewing Techniques, Recipes and the Evolution of India Pale Ale." Recommended.
3 Pliny the Elder is 8% ABV and is made with several hop varieties not even available when Cilurzo first brewed Inaugural Ale.