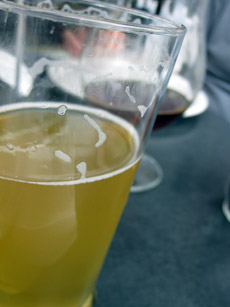 What style beer do you think the one pictured at the right might be?
Double Mountain Brewery in Hood River (right around the corner from Full Sail Brewing) calls the beer Vaporizer and describes it as a Golden IPA.
I really liked the beer, which is generously dry-hopped with Challenger hops. Otherwise I wouldn't have ordered a full glass after sampling it along with others. All the beers I tried were tasty as a matter of fact, all with plenty of hops (they say the Kolsch packs in 40 bittering units, and it tasted of every one). But I was a bit surprised by how hazy the beers were overall, even taking into consideration the dry hopping.
In fact, we've seen plenty of hazy beers in Oregon (not just the ones made with wheat). I guess there is a pun in there about "partly cloudy," but I'll pass. I've heard brewers in other states say if their beers aren't a little cloudy their customers don't understand they are "natural" but on a per capita basis — and granted I've only managed a small sample in a state with just a ridiculous number of brewers — a lot more haze in Oregon.
For the record, this isn't something you taste or that changes my opinion of a beer.